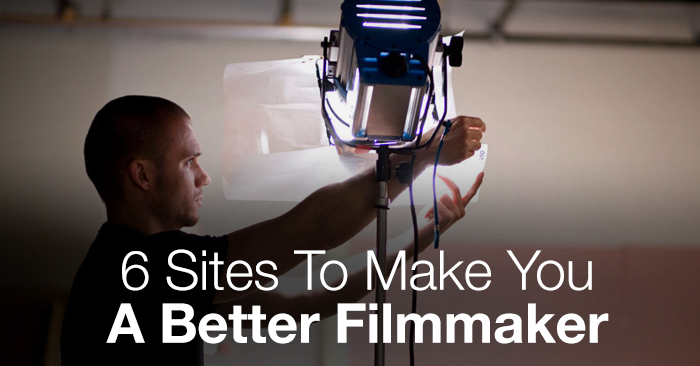 6 Sites to Make You a Better Filmmaker
Improve your scriptwriting, filmmaking and film theory knowledge with these helpful sites.

Image from Vancouver Film School on Flickr
It often seems that new filmmakers are obsessed with gear and technology, but don't focus on how to tell a story. If you're looking to dig deeper into film theory and learn how the best moving stories are told, these filmmaking sites provide a wealth of info. Bookmark them!
Fim Courage  is co-run by Karen Worden (Editor-in-Chief/videographer) and David Branin (videographer). The site provides a ton filmmaking tips and tricks from professional filmmakers in the industry.  Also worth checking out is their Director's Toolkit that has interviews with successful filmmakers like Richard Linklater.
As the name indicates, Fincher Fanatic is focused on the Films of David Fincher. But don't let that put you off, as it offers the site is actually a lot more comprehensive and features articles/videos on the process of filmmaking. I suggest starting in the "Film School" section, featuring a variety of interesting articles and videos.
One of my favorites is Paint It Black: A Look at David Fincher's Color Palette ,a PDF that looks at the use of color in several Fincher films. It's a very enlightening 9 page read, especially for those interested in learning cinematography and color grading.
Movies in Color touts itself as "a website featuring stills from films and their corresponding color palettes. A tool to promote learning and inspiration". The site examines color palettes from well known Hollywood classics, as well as recent films.
Color is an essential part of mise-en-scène. I find this site fascinating and have been revisiting some of favorite films while referencing the color swatches here. You can search the site based on the film, director or cinematographer. For those wanting to work in cinematography and color grading, understanding color is essential.
Related to this, Mike Jones has a great article on color grading that covers building color swatches for your film/video project.
"The aim of Clothes on Film is to examine costume and identity in movies, featuring detailed articles on outfits, reviews, news and exclusive interviews"
Although the blog seems like an ideal read for a costumer, there's actually a lot of considerations here for anyone interested in filmmaking. Unfortunately clothes and costuming is often neglected in low budget filmmaking. The right clothing can help better convey a sense of time and feeling in your film project.
David Bordell is the author of the well known book  Film Art and a Professor of Film Studies at the University of Wisconsin–Madison. His articles are detailed observations on both historical and contemporary cinema. The site feels slightly academic, but there is great info here and definitely worth a read.
One of his most recent post is a fascinating look at the storytelling process of the 'Wolf of Wall Street". It's a terrific read on the fundamentals of film narrative.
Geared toward the student filmmaker, Elements of Cinema is a good starting point for those interested in the fundmentals of successful filmmaking. The site provides a detailed guide to the process, from screenwriting and editing to directing and cinematography.
For those new to the craft, start on the What is Cinema page.
These sites provide a wealth of info on the different aspects of filmmaking. Got others to share? Let us know in the comments below.