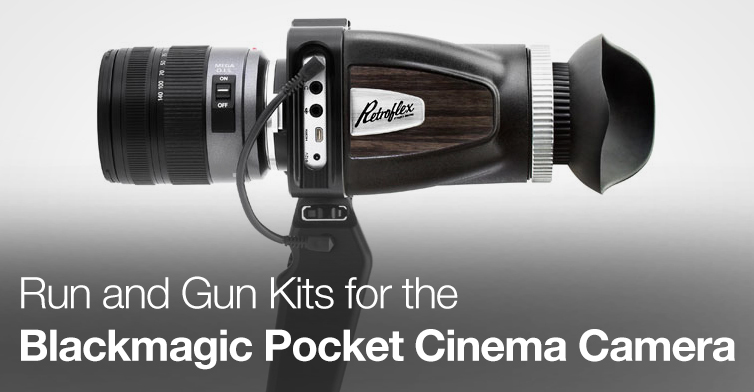 Run and Gun Kits for the Blackmagic Pocket Cinema Camera
In this post we look at building a basic package for a run and gun style setup for your Blackmagic Pocket Cinema Camera.
The Blackmagic Pocket Cinema Camera (BMPCC) offers great image quality for under a $1000, but you will need a basic support package to get the most out of your investment.
Let's take a look at some affordable options for the single shooter, that don't cost more than the camera itself. Want more info on the BMPCC? Check out my previous posts on lenses and camera cages.
RedRock Retroflex
Redrock Micro showed their all in one solution for the BMPCC at NAB 2014. The Retroflex ($495) consists of a grip with start/stop control, a minimal cage with mounting brackets, and a 3x optical Viewfinder (magnetic attachment). The start/stop switch is a brilliant move that appeals to me as a run and gun shooter.
At under $500 it is reasonably priced, and the retro form factor is reminiscent of the Digital Bolex.
HDVideoPro Magazine got a a demo of the Redrock Micro Retroflex:
BMC388 Blackmagic Cinema Camera Preamp
JuicedLink recently announced the BCM388 ($429), a low-noise preamp specifically designed for the Blackmagic Cinema Cameras. This preamp is great for situations where you don't want to record audio separately. It features meters, audio bracketing for overload protection and selective power-down to extend battery life.
There is an online manual and a video on the BMC366 (similar model without meters):
They also have an excellent free ebook, "Field Guide to Audio Production".
Hoodman LCD Viewfinder/Loupe
Hoodman showed their new Custom Viewfinder ($169.99) for the BMPCC at NAB 2014 – it previously fit Canon and Nikon DLSRs. Instead of a magnetic attachment or an adhesive frame, the HoodMan uses an adjustable bracket. I use one of these with the Contineo BMPC Cage and the adjustable bracket is a big timesaver when shooting with or without the cage. 
BlackRapid Camera Strap & Pistol Grip Handle
I use the BlackRapid Camera Strap ($39) with the PNC Pistol Grip ($22) for a quick Run and Gun Solution. The strap clips to the handle, and provides enough stability if using an image stabilized or wide angle lens.
Zacuto Blackmagic Pocket Camera Z-Finder
Zacuto has the  Z-Finder ($160), featuring 2x magnifications and 4 anti-fog diopters. It attaches to the BMPCC via an adhesive frame.
Ikan Battery Options
Ikan recently announced a
variety of battery options
for the BMPCC. The batteries attach to rods, and there are one or two rod options. The more expensive ones take pro batteries, but the affordable  Single Rod DV Power Kit ($79.95) takes the widely available, and inexpensive, Canon, Sony and Panasonic DV batteries.
RotoLight L48
The Rotolight RL 48 ($149) is a lightweight LED camera light. It runs for 4 hours on AA batteries and comes with  'Lee Filters' lighting gels for setting color temperature plus dimming and diffusion. Rotolight has a video that shows the various filters in use:
MOGOPOD MK III Monopod

Mogopod makes the versatile Mogopod MK III ($120), which can be used upside down, takes either a video head or ball head, has index markings to easily repeat setups and has tripod and belt options. The MogoCrane allows you to turn the monopod into a mini jib and is avaliable for $180.