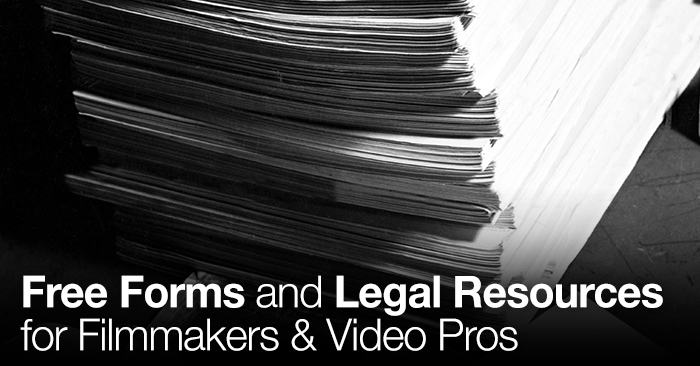 Free Forms and Legal Resources for Filmmakers & Video Pros
Don't go into your next film or video production blindly. Make sure you're covered legally in all steps of the production process!
Taking the right precautions from the beginning will keep you out of hot water and provide extra peace of mind for your creative project and team. Some of the most important legal issues surrounding your film and video project may be ones that you're not even aware of.
Legal issues and filmmaking forms isn't the sexiest part of this business – far from it – but it might be one of the most important aspects that you're currently neglecting. It's essential to have an understanding of copyright and to obtain the proper permits and releases. In this post we've rounded up a slew of information and free filmmaking releases you can use for your next project.
Video & Filmmaking Legal Issue Links
Chase Jarvis has a detailed post on why you need location permits for photo and video shoots. He shares his personal experience in location scouting for a Lululemon shoot. He also explains that most businesses and towns actually want productions to come to their locations because it is free marketing. So be patient!
Center for Independent Documentary has a helpful guide on New Media Rights (copyright, public domain, release forms). In an ever changing media environment it can be really confusing to understand where your production stands legally. How does music licensing work with online video? Answers to all these questions can be found on CID's website.
These are are a bunch of helpful slideshows for filmmakers, and several focused on legal issues, including documentary and  forming a film company, shooting and marketing a film. Slideshare is also a great place to check out slides used by industry experts. You may want to check out our Slideshare post on a keynote given by Richard Harrington at NAB 2014.
FilmSlate offers a short and sweet overview of business and legal issues of filmmaking. The article explains clearly the steps needed to make a film including making your own production company and contacting investors. If your not sure what type of business your production company needs to be check out our post on production company structure.
Not sure if you need to get release forms from your subjects? Videomaker has a detailed article on why you need release forms. Now you will know what faces you may need to blur out and which ones can go untouched. (If you do need to blur out faces in your video, check out our tracking faces After Effects tutorial).
Trying to figure out how to get the rights to adapt a book to a screenplay? Trying to copyright your company name? Filmmaking.net has a helpful FAQ on these types of legal issues. While your there check out their great list of film schools.
Copyright is a confusing yet necessary. Case in point, there is a whole branch of law dedicated to copyright law. Indie Producer addresses copyright law and regulation along with a bunch of other really great legal topics, and the BBC has a comprehensive guide for those in the UK .
On top of being a great place to find a job and get funding, Desktop Documentaries has many detailed articles related to the legalities of indie-documentaries. While you're there check out their filmmaking 101 post.
If you haven't yet been burned by someone in the industry, consider yourself lucky. The unfortunate reality of working in such a competitive field is some people cheat to get ahead. The author of filmmaking has experienced this problem first hand and is now offering a few posts to protect others from letting this happen to them. Filmmaking Help tells you why you need each form, which is helpful for the new or indie filmmaker.
Like the Center for Independent Documentary, Kino Eye has a lot of really great resources specifically directed toward Independent Documentarians. They've also got a lot of articles specifically dedicated to productions distributed online.
Filmsourcing offers 4 PreProduction and 8 Production forms (PDF format). It features filmmaking and video production essentials like Location Scouting, Talent Release, Location Release, as well as often forgotten ones like the artwork Artwork Release. Film Sourcing is also a really awesome place to find film production personnel in Europe and hopefully will spread everywhere in the future.
Filmmaker IQ  There's so much good stuff here in so many categories (screenwriting, development, preproduction, production, post production, distributing) that it is almost overwhelming. That being said it is definitely the most extensive collection of legal forms we have seen.
Although you might have never heard of the North Carolina School of the Arts they happen to have a great page full of legal forms for filmmaking. UNCSA (North Carolina School of the Arts) offers an extensive list of preproduction and production forms ranging from actor releases to pickup truck inspection.
Don't judge Dependent Films on the design of their website but rather the quality of their forms! They have a ton of legal forms and useful downloads for filmmakers. If you are in need of some stock images or film you will find some here as well.
Cinema Forms is a free app for the iPad. However to export PDF files (email, dropbox, Air Print) you have to upgrade to the $9.99 Pro Version. For an additional $19.99 you get 85 forms – not a bad price if you want interactive documents for your iPad.
Know of any other good places to get some legal forms? Share in the comments below.