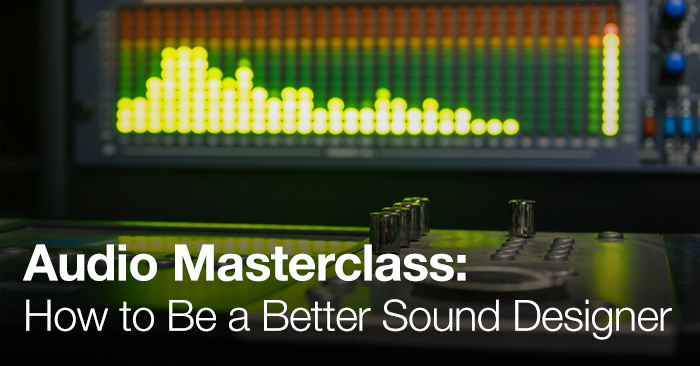 Audio Masterclass: How to Be a Better Sound Designer
Improve the quality of your sound recording, design and mix with these free masterclasses!
Getting good audio is critical to producing a high quality film that audiences can not only hear properly, but engage with fully. All too often (especially in low-budget filmmaking) the sound isn't thought of until something goes wrong with it and then it's all too little too late. Fortunately there are plenty of great sound recordists, designers and mixers out there who are willing to share their knowledge with the rest of us.
In the 'mini-masterclass' above, production sound mixer Simon Hayes describes the intricacies of how a whole team of people work together in concert within the sound department to create perfectly recorded production audio. It's a great insight into how each role works in tandem with the rest and how critical a great boom-operator is on your shoot.
In this behind the scenes featurette from Baz Lurhman's Australia, you can see all of the individual crew members of the production sound department in action on set, which really helps to see how each role works in practice:
Sound Mixing Masterclasses
In this three short clips from the Sight Sound & Story: Soundshow NY you can hear the sound team from Life of Pi discussing how they created the final mix for a few of the of the most memorable sequences in the film.
If you want to go far more in-depth with the team from Life of Pi, then this Dolby masterclass focusing on the Dolby Atmos mix of Life of Pi, with a distinguished panel of post production sound professionals will give you an hour of great insight. Skip to about 8 minutes in if you want to just hear the discussion:
The CallSheet.co.uk has a fantastic interview with Sound Mixer Chris Munro, who won both an Oscar and a BAFTA for his work on Gravity. The whole interview is well worth a read, but here is a choice quote:
"Black Hawk Down" was another of those very technical films. Ridley Scott is an amazing director and one of the few that can use multiple cameras so effectively. I think that at times we had up to 14 cameras including aerial shots. Not many people were using multitrack recorders at that time and we were recording to digital multitracks. It was a challenge, but very satisfying This was also the first time I had been able to use live ammo for sound FX recording, which gave some great results and sounds very different to some of the gun FX in libraries. I have since done this on many subsequent films with results that I have been very happy with.
Another Dolby panel discussion that is worth a watch is this hour long conversation from Sundance in 2013, featuring some of the most legendary men in film post production sound alive today, including Ben Burtt and Randy Thom. Jump to 15 minutes in to skip all the introductions and hear Ben Burtt describing how he created some of the original sound design for Star Wars.
Lastly, if you're after a comprehensive set of sound editing tutorials then check out this post featuring a huge collection of tutorials from dialogue editor John Purcell.
Got your own sound design tips to share?
Let us know in the comments below!