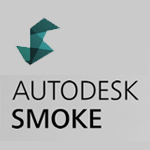 Autodesk Smoke 2013: Interview and Tutorials
We caught up with Marc-André Ferguson, Editing and Effects Evangelist for Autodesk Smoke.  Find out the benefits of a Smoke post production workflow in the interview and tutorial links below.
Autodesk is making a splash in the post production industry with the rollout (and continuous improvement) of their Smoke video editing and compositing application. Smoke provides a comprehensive post production workflow. Do your editing and finishing (compositing, grading and visual effects) in one application, without roundtripping to other apps. 
Autodesk continues to add new tools and functionality to Smoke, taking in advice from video professionals that are using it on a daily basis. They promise many new features in upcoming releases.
The release of Smoke 2013 comes with a significant price drop over previous versions, making it more accessible to a wider user-base (it can be purchased on the Autodesk site for $3495). If you're not ready to drop that kind of cash you can also take it for a FREE 30 day trial run.
We met up with Marc-Andre Ferguson, Autodesk's main man behind Smoke 2013, to get his insight into why Smoke provides a unique toolset for video professionals.  Check out that interview here:
Looking to get started with Autodesk Smoke?  Our Brian Mulligan has tons of in-depth Smoke tutorials here on the Premiumbeat blog – great info for Smoke newbies or long-time users looking to take advantage of the new tools added in Smoke 2013.
We've rounded up some of Brian's most popular Smoke tutorials:
101 Smoke 2013 Questions Answered

Our most popular Smoke post! Brian answers 101 of the most common Smoke 2013 questions, addressing Setup/System Requirements, Audio, Editing, Titling and Training. If you have a Smoke question it's likely answered here!

Keyframing in Smoke

Using Smoke's Channel editor you can set your keyframes in Autodesk Smoke. Adjusting animation curves allows you to give elements in your project natural, fluid looking motion. Discover quick ways to smooth and simply your keyframes.

Alpha and Matte Clips in Smoke

In this post, Brian shares a way to edit with alpha clips in Smoke. Additionally, you'll learn how to export out these projects while preserving an alpha channel (transparency). Lots of useful info for working with alpha channels in Smoke's ConnectFX.

Action Node in Smoke

The action node is the basis of compositing in Autodesk Smoke.  In this Smoke tutorial, you'll learn the basics of working with nodes and how the Action in particular is essential for building your node based effects. Also includes info on the Action Output menu.

Collaborative Editing in Smoke

Working in a multi-editor post production environment?  Open a Smoke project remotely or have multiple editors working on the same project at the same time…with the same clips. Essential info if you're using Smoke in a collaborative video editing facility.
Are you using Smoke for your video editing work?
What do you like or dislike most about the app?
Leave your thoughts in the comments below!