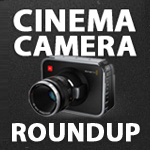 Tips On Working With Blackmagic Cinema RAW Files
Check out these great tips on how to make the most of your Blackmagic Design Cinema Camera's RAW files inside DaVinci Resolve and FCPX.
Creating One-Light Dailies from BMDCC DNG RAW files in Resolve
If you're trying to get your Blackmagic Design Cinema Camera RAW files into an editable format the free DaVinci Resolve Lite software (as well as the full version of Resolve you received when you bought the camera) will help you quickly make that happen. In this straight forward tutorial, Dan Kanes walks through how to correctly set the color space for your DNG RAW files and transcode them to Pro Res quicktime files in DaVinci Resolve 9.1. Dan also demonstrates how to adjust your white balance and exposure adjustments in your RAW files and make global changes to all your footage to create one light dailies.
Blackmagic Film to Video Plugin for FCPX
Adam Roberts is a London based DP who has been sharing his progress with the BMDCC and on his blog.  He has some great tutorials and camera tests (previously shared on Premiumbeat here) which are well worth a watch if you're looking into getting a BMDCC or trying to get started with the one you've just bought/hired. In this post Adam has been beta testing a Final Cut Pro X plugin created by Nick Shaw from Antler Post Production which allows you to apply the Film Log to Rec. 709 LUT (similar to what Dan Kanes does above) but without leaving the FCPX timeline.
BMD Cinema Camera – Movie Making Machine
Director of Photography Shane Hurlburt has been preparing to shoot the upcoming feature Need for Speed and has posted this lengthy report on how he's tested the BMDCC's RAW capabilities to see if it could be the main camera for the shoot. If you're hungry for technically detailed soaked camera tests then this is for you. Shane covers everything from sensor sizes, bit depth, filters, cages, eye-piece adaptors, lenses and more. Its a great example of what else is required to turn the basic BMDCC body into a feature filmmaking machine.