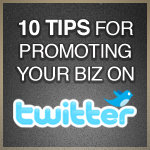 10 Tips for Building Your Video Production or Editing Business on Twitter
Looking to jumpstart your video production or editing business?  Leverage Twitter to expand your brand – follow these 10 tips for success!
Use Twitter to help build you creative business! 
These tips should be useful to you if you're a one man freelance creative whirlwind or a multi-national creative empire. I've sprinkled in some illustrative tweets of good people to follow if you're in the video production and post production world.
1. Have a goal – make a plan
When using Twitter specifically to 'build your brand' you need to be clear in your own mind why you are using it and what you want to get out of it.
Having a clear plan.  Build a crowd of followers who might like a product when it's launched.  Build a network of other professionals in your city.  Have an online presence with the goal of 'industry recognition' and 'brand awareness'.  All of these are valid reasons to use Twitter.  Without a targeted goal you are aimless.
Remember, it takes time to build a following.  It takes persistence and takes personal passion.  If its a chore to do, it really won't be engaging to follow.
2. Tweet effectively and consistently (signal to noise ratio)
One of the things I find most annoying (personally) is when people have long conversations with their friends in a medium that is designed for 140 characters. Its not MSN or AOL messenger!
My tip would be to decide if your Twitter account was created as a work account or personal account for talking shop with friends.  If it is a work account, use it as such!  This is a broadcast medium in which strangers can and will follow you. Therefore consider whether you really want to tweet pictures of your dinner or shots of your friends at the pub if its not really part of your 'brand'.  Also if you're sending out more noise (dinner photos) than signal (useful links, tips, insights, etc) people will have a tendency to unfollow you.
3. Time your tweets
On Twitter timing is everything. People's feeds can rapidly fill up and your carefully crafted tweet can quickly get lost in the deluge.  So, time your tweets for your core audience. Most people tend to check Twitter in the morning (breakfast/commuting) or at lunch or in the evening when they get home (7-9pm?). Therefore try to time your tweets for when you think the greatest number of your followers will be thumbing through their feed.  If you want to nail down the science of timing tweets check out this in-depth post that provides TONS more details.
4. Tweet others good stuff
Finding enough things to tweet regularly can be a challenge but that's what retweeting is all about. If your followers are like-minded creative professionals (why they are following you in the first place, right?) then chances are the things you've spotted on Twitter and enjoyed, they will to.
Don't be shy about retweeting other peoples work, posts, tips and links. It all adds value to those who are following you and that adds value to your brand. You'll probably pick up a fair few more followers as others spot you retweeting their links.
5. Use Twitter to meet people
The Internet is great, but so is the 'real world' where you can meet people face-to-face. Organizing a local meet up (aka a pub night) of some of your Twitter friends who might live in the same city, is a great way to solidify friendships, put faces to names and also connect with people in a more meaningful way (which hopefully will lead to some mutually beneficial paid gigs!)
6. Use hashtags sparingly
Although hashtagging key words in your tweets can be helpful if others are searching for them, it is speculated that when google indexes your tweets it can treat them as spam if they contain too many hashtags. I'd stick to one or two for safety and clarity. Personally I usually only hashtag the software (eg #DaVinciResolve) or a community group like #postchat.
7. Use lists
Twitter lists are a great way to add even more value for your followers.  Lists allow you to group who you are following by topic, location or event.  This makes it things more organized for you and allows your followers to discover other active Twitter users.  For more info check out this guide on using Twitter lists.
8. Celebrate your current work
Use Twitter to build your brand by celebrating your work and promoting your clients projects. An easy way to do this is to Tweet the following:
Before a project:  "Excited to begin work on project Y for Client X."
During a project:  "Working hard on project Y…."" (maybe with an on-set photo or post production screenshot)
After a project is finished:  "Glad to have worked with X Client on project Y, check it out here…"
Promoting the job you are currently working on is a great way to raise awareness of your brand.
9. Thank people
This is such a quick and easy 'win' it's amazing less people do it.  If someone adds you to their "creative professionals list" or is always favoriting and retweeting your stuff – just drop them a quick Direct Message to say thank you.
In addition, you should thank your cast and crew after a hard days work or the successful conclusion to a project.  It doesn't cost you anything, but it goes a long way!
10. Trim your feed for more fruitful use
Once you're an active Twitter user you'll be following more people than is really feasible to keep up with. You can either live with this and just dip in and out of a steady stream of content or start to trim away at your feed and whittle out those who aren't providing useful links. Partly this will depend on your goal from point 1.
BONUS:  Join in community tweet-fests
Sometimes a creative community will gather together for a tweet fest.  For video editors there's #postchat, which is a regular Twitter meeting of minds and an online fast paced Q+A.  If you can, and the time zone suits – join in to these events, connect with people and generally add to the Twitter community vibe. If there doesn't seem to be a tweet-fest that's for your interest – why not get one going?