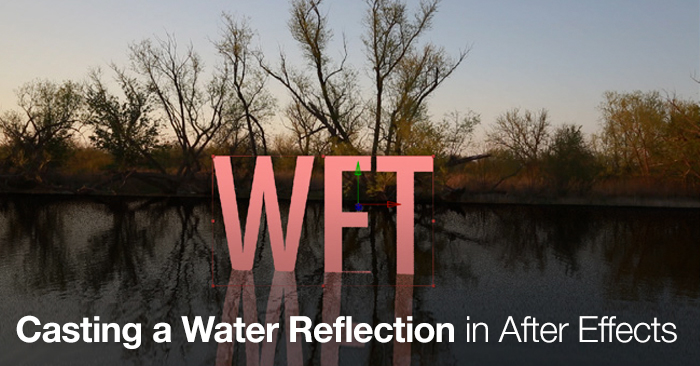 Casting a Water Reflection in After Effects
Dive into the deep end – pun intended – with our water reflection tutorial for Adobe After Effects.
The Ray-traced 3D Renderer is a powerful tool that lets you execute a ton of different 3D tasks not available in the regular After Effects 3D render. Today we will keep it simple…I'll show you how to cast a reflection in a pond with a graphic element. Follow the steps below to realistically float any text or graphic in water.
First, you want to switch your renderer to Ray-trace 3D. From the Menu Bar choose Composition> Composition Settings. Be warned that to get really flawless, beautiful results you are going to have to turn the ray-trace quality up to a point where you may consider the render times unreasonably long (depending on your setup).
For this project I worked in 2 and pumped it up to 4 before rendering.
The first thing you'll want to do is to motion track (Animation>Track Camera) your footage and create a camera with that tracking.
Next, you'll want to create a new shape layer (Layer> New> Shape layer). Then create a large white rectangle and line the perspective up with the surface of the water.
Be sure to turn 3D on for the layer. You can toggle the rotation controls with the R key. I like to start by tilting X rotation to 90 degrees and then tweaking things from there so that my shape is lined up with the water surface as closely as possible.
Then drop your graphic element (here I chose text) into the project, lining it up so that it's dipped is partway into the plane, as if it were dipped into water.
Next you'll want to change some settings around on the shape layer (trigger the settings by pressing "AA"). This is what I did for this specific shot. Again, to get things looking flawless you are going to have to turn up the raytrace quality, if you don't you will get this grain. I went ahead and pushed the text back into the image so that I could see more reflection.
Next its just a matter of keying the position of your element. Two cool techniques I like to use with water:
Make it rise from below
Slowly key the rotation so that it looks as if its rocking back and forth.
Got any Ray-trace tips to share?
Let us know in the comments below!