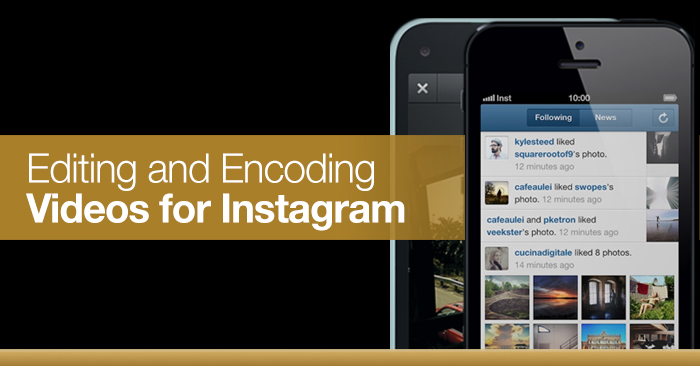 How to Edit and Encode Videos for Instagram
Tweak your Instagram vids beyond what you can achieve in the app. In this post we share a more powerful workflow for editing your Instagram videos.
---
**We've updated this article! See the in-depth guide to uploading 60-second videos to Instagram.
---
Since adding video to its service in 2013, sharing video through Instagram has grown from a simple photo app to a powerful way of showing off your videos to a growing network of friends and users. With these steps you can import your best 15 seconds for the world to see.
1. The rules of Instagram are made simple: 15 seconds of video in a 1:1 square ratio. First, bring your video into an editing application and cut at will. Most video editing applications allow you to modify the aspect ratio of your project.
Instagram video dimensions are 640 x 640.
If you don't know how to do this, Instagram will automatically crop the sides of the video upon import and let you tweak the cropping point within the app, but if you want to double check the crop points before putting it onto your phone do it here or within the encoding process.
2. Next, you will want to get your video into the H.264 codec. This format is ideal because it looks great while still keeping your file size low (to make transferring your video quick and painless). Instagram will accept other video formats, this is just the smoothest one I have found.
I use Compressor with the H.264 setting, but other encoding apps will also convert to H.264 (like Adobe Media Encoder or the free MPEG Streamclip app).
3. Once the video is in the right format, the easiest way I have found to get a video from your desktop to your phone is by using the Dropbox app with a free account. If you aren't familiar with Dropbox, it's a cloud storage company that offers limited amount of space for free users but more than enough than we need for this project. Sign up and download here.
4. After you have uploaded your video to the Dropbox folder on your computer. Then, install the app on to your phone, find your video file within the app and save it to your camera roll or gallery. Here you can you access it from Instagram. Now share your creation with the world.
Got your own tricks for editing and exporting video for Instagram? Share your thoughts and experiences in the comments below!