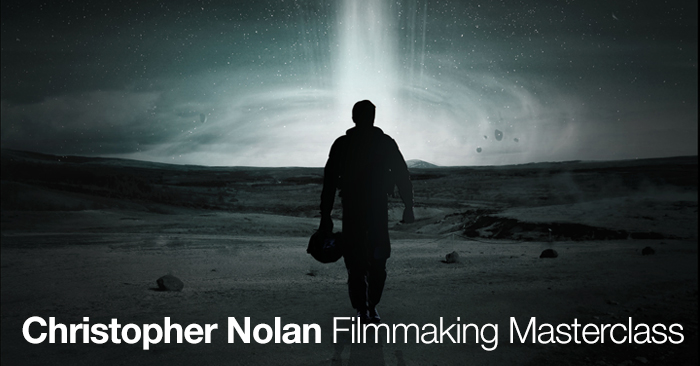 Christopher Nolan Filmmaking Masterclass
Learn more about the art and craft of filmmaking from Interstellar director, Christopher Nolan.
The soon to be released Interstellar is director Christopher Nolan's ninth feature film but there is still plenty to learn from his earliest work including his first feature film, Following.
Filmmaking Tips from Nolan's First Feature
"Following represents the peak of what I was able to do on my own, just with friends and borrowed resources." -Christopher Nolan
In this fantastic 26 minute interview you can hear directly from director Christopher Nolan as he shares his filmmaking insights and process involved in making his first feature film. Off the back of the festival circuit success of Following, Nolan was able to make Memento, which became his 'breakout' film and his first steps into Hollywood stardom.
In this post-screening interview from the 1999 Slamdance film festival you can pick up plenty of great filmmaking tips. If you're really paying attention you can pick up 34 great filmmaking lessons, or, you can check out this excellent article from Natalie of Mentorless.com in which she lists the 34 filmmaking lessons she took away from the interview.
Creating on a no-budget

Nolan explained that Following was shot at a time where a 'healthy competition' was going on between filmmakers who were all trying to make the cheapest movie possible.
The $6,000 were spent buying film stock and processing it.
Actors and crew were bringing their own lunch
The reason Nolan shot over a year was because of the lack of money and everybody was working.
Nolan figured out he could shoot for 2 and 1/2 to 1 ratio, which is almost the same ratio that Shane Carruth for his first feature, Primer. What that means is that he would get one minute of usable footage for every two and half minutes of film shot. The Ratio on a standard film is 15 to 1.
The entire film is made out of 1 takes and sometimes 2 takes.
The film was rehearsed for about 6 months, just as if they were doing a play. Actors knew the whole film in advance. Each Saturday, depending on the location secured, Nolan would tell them: 'We are doing X scene', and they were prepared to make it happened in one take.
Following Director's Commentary
Thanks to the wonders of the internet, you can also listen to director Christopher Nolan discuss the making of the film for a full 70 minutes, as appears on the DVD commentary.
Inside Memento and other films
If you ever tried to sit down and work out just what was happening inside Memento, Nolan's second feature film and one nominated for best screenwriting and editing Academy Awards, then this 18 minute masterclass in story analysis and film structure from Nolan himself should help explain it. Sort of.
Lastly The Verge has a great little interview with Nolan that charts a few highlights from his early career with some interesting revelations about his filmmaking process.
Cutting Inception with Lee [Smith], my editor, I remember we got to reel three and watched it. It was completely incomprehensible. And it took several weeks of sleepless nights of really trying to figure it out. Weirdly though, when I look back at the script compared with the way that section of the film turned out, it's not that different. But it can be very hard to find those things. One of the reasons I don't watch the assembly as a lot of filmmakers do, is it's four hours long and it's a terrible film. So I just don't want to start from that place. I'd rather start from the place of its sense of possibility, which is what you have in the dailies.