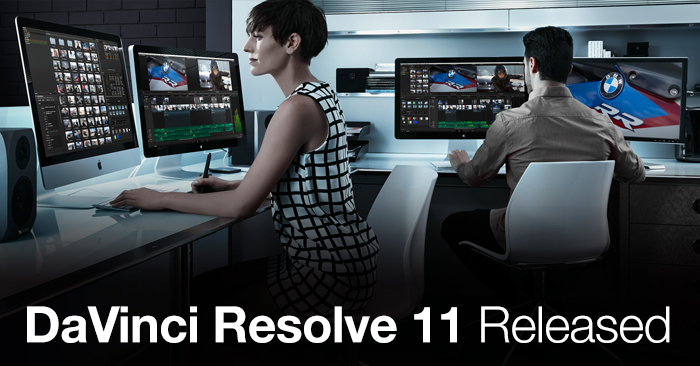 DaVinci Resolve 11 Released
Initially announced at NAB 2014, DaVinci Resolve 11 is now available and features over 70 new features. Free upgrade for previous Resolve users!
In Blackmagic's apparent push to control the full production and post pipeline, they've loaded up DaVinci Resolve with new features for both color grading and video editing. A public beta of Resolve 11 was available to previous DaVinci users, but today's announcement marks the public release.
New features in DaVinci Resolve 11 include:
Multi-user collaborative workflow with simultaneous editing, grading and metadata entry (Full Version only)
User selectable enhanced and optimized foreground and background render caching
Completely New Multiple Level Render Caching includes selectable cache points for source, nodes, clip and timeline, cache indicators on edit and color page showing selection and status of cache and user selectable cache formats; ProRes, DNxHD, Uncompressed 10-bit and 16-bit float
Project setting to enable/disable background render caching
Dual monitor user interface support
Apple certified ProRes decode and encode support on Linux
High performance OpenFX framework extension for multi GPU OpenCL and CUDA plugins
GUI support for multiple languages; English, Japanese and Chinese
User customizable keyboard shortcuts and presets
Multiple auto save versions
See more feature details in our previous post on the Resolve 11 announcement. Although a slew of video editing features have been added to Resolve 11, Blackmagic also improved the roundtripping functionality, so projects cut in other video editing apps (like FCPX) can more easily be brought into and out of Resolve.
DaVinci Resolve 11 is available now for download from the Blackmagic Design website free of charge for all previous customers. For new customers looking for advanced color correction and editing, DaVinci Resolve 11 Lite is a powerful version that can be downloaded free and supports resolutions up to Ultra HD. (from Blackmagic Design)