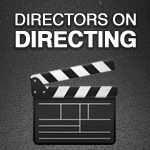 Creative Inspiration: Directors on Directing
Learn how to be a better filmmaker by learning from world class directors.  In this post, we've rounded up some of the best wisdom from Hollywood legends.
The director should know everyone's job well enough to draw the best out of them, creating beautiful moving harmonies. That makes the seamless collaboration of hundreds of creative people's diverse efforts into one piece of powerful cinematic punch sound simple, doesn't it?
Directors need, focus, vision, leadership and an ever-growing encyclopedic knowledge of film's magical mixing of artistic and technical methods. Learning from directors is a short cut to learning a lot in a little time.  These great resources will help you become a better filmmaker by learning from some of the best known, and a few 'unknown', directors around.
The Importance of Visual Literacy with Martin Scorcese
Martin Scorcese is probably the granddaddy of directors around today (other than Spielberg) who have a deep knowledge of cinema.  In this video he talks about the importance of 'visual literacy' – developing a vocabulary of cinematic methods and technique.  One example of this would be knowing the effect different lenses have on the image and thus the story.
Flavorwire also has a great article featuring 20 filmmakers on why they make movies, in which Scorcese headlines.
"Movies touch our hearts and awaken our vision, and change the way we see things. They take us to other places, they open doors and minds. Movies are the memories of our lifetime, we need to keep them alive."
Filmmaking Tips from Peter Jackson
Peter Jackson is one of those select directors in the world today who can write their own ticket for any project.  He has the immense power and resources needed to make any film he wants. Film School Rejects has a good blog post pulling together 6 filmmaking tips from the entire span of Jackson's career – starting with accidentally creating his first feature film Bad Taste all the way through spending nearly a decade on The Lord of The Rings trilogy. There are some great lessons to be learned from one of the most 'inclusive' directors around so def check out that post.
Boyle & Aronofsky on Directing
Its not often that you get to see two such diverse filmmakers as Danny Boyle and Darren Aronofsky sat together talking about their craft and what it's like to direct hollywood feature films…but here is one of those opportunities. Danny Boyle had just finished the hugely successful Slumdog Millionaire and Aronofsky the twice Oscar nominated The Wrestler when they sat down to interview each other. Check out part one below and here's a link to all seven parts of their 30 minute interview.
5 Essential Lessons from a First Time Director
Jake Oelman has a great blog post on the 5 most important lessons for directors, based on his experiences while directing his first feature film Dear Sidewalk.  These are great reminders of some of the essential things to get right at the start such as doubling your prep time and editing while you shoot.
For a lot of filmmakers, not just first timers, doubling your prep time may seem like an unrealistic request, a dream if you will, but man is it necessary. Prepping is the life blood of your material. Without it the chances of your film falling off the tracks or even worse, is greatly increased.
6 Ways Director's Can Ruin The Edit
Editors do tend to have the luxury of hindsight, but it is one of the best places to learn if you pay attention.  The Raindance Film Festival has a great post on 6 ways the director can screw the editor through a list of  crimes that are all to familiar. Simple things like calling 'cut' a bit later, starting moving shots while moving (not static) and making sure your continuity is in order, can reduce hours of heartache and hard work in the edit. Great lessons for all directors to learn!