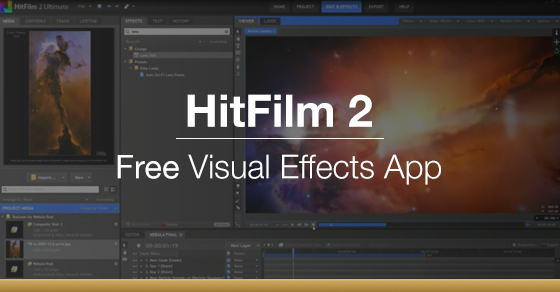 Download Free Visual FX Software For A Limited Time
HitFilm 2 Express is a crowdfunded special effects app that's free for a limited time.
HitFilm 2 is a visual effects package that is now available for Mac thanks to a successful Kickstarter campaign. Originally a Windows only program, HitFilm 2 Kickstarted more than doubled it's goal bringing in nearly £60,000 (nearly $100,000) to bring integrated compositing, tracking, particles, grading and 3D capabilities into one seamless experience.
For a limited time only (until February 4th) HitFilm 2 Express is available as a free download, saving you $149 on the normal purchase price. The only caveat is that you will have to share a link to HitFilm 2 Express on Twitter or Facebook to enable the free download.
Why would you bother with HitFilm 2 Express and not just create the same effects in After Effects? Well for one, you have to pay for After Effects. Also it looks like a lot of the effects that ship with HitFilm are far more 'newbie' friendly than achieving the same results in After Effects. HitFilm 2 Express also comes with some free project material to help you get started.
HitFilm 2 Express Tutorials
With the release of HitFilm 2 there are several free tutorials that talk you through all of the major features available in the program such as adding in muzzle flashes, flares, performing motion tracking and much more.
HitFilm 2 Ultimate Visual Effects Software
HitFilm 2 Ultimate is the more developed version of HitFilm 2 Express and comes packed with more features like 3D particles, 3D object handling and 3D camera tracking. It also ships with 55 more effects than Express. If you want a full list of the different features, jump here. Currently there is a 25% sale on Ultimate as well, although it will set you back $299.