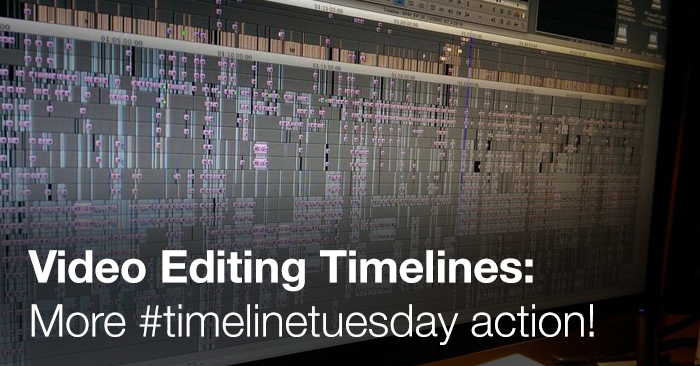 Editors Timelines – More #timelinetuesday action!
More scenes from the editing bay! Check out these video editing timelines for a close up look at the post-production process.
This picture of the opening sequence to Oscar winning Gravity, by co-editors Mark Sanger and Alfonso Cuaron, kicked off a surprisingly popular post featuring a collection of screengrabs from numerous feature film and network television editors. So it seemed like it might be a good idea to bring together another roundup of some of what is now might be a good idea to bring together another roundup of some of the best of what is now know in the business as #TimelineTuesday.
Day 2 in editing room on In the Heart of the Sea. Another fascinating post prod challenge akin to Rush or Apollo 13 pic.twitter.com/f4yXRsQdk2

— Ron Howard (@RealRonHoward) January 7, 2014
If you want to learn more about what film editors actually do then check out this round up of insights over on my blog. Plus if you're after some technical details and a look inside some professional edit suites check out this post featuring photos from inside Ron Howard's cutting room for his latest feature film, In The Heart Of The Sea.
Video Editing Timelines
Sneak peak from @RealRonHoward ! #timelinetuesday MT @RealRonHoward: Back in the editing room on #IntheHeartoftheSea pic.twitter.com/GkSZDwXWC5

— Matt Feury (@MattFeury) April 30, 2014
What's interesting about this first image, again from Ron Howard's editing room, is that the subsequent Twitter conversation points out that they seem to be editing on a pre-version 6 copy of Media Composer. Apparently stability is more important than the latest bells and whistles.
#TimelineTuesday just locked #USofSecrets part 2 for @frontlinepbs #documentary @avid @MediaComposer. Part 1 tonight! pic.twitter.com/ibtZM3Qo4a

— Steve Audette (@stevecutsdocs) May 13, 2014
In this next tweet, documentary editor Steve Audette reveals the timelime for part 2 of the PBS and Frontline documentary Secrets of the State which you can check out here. For a full rundown of the gear in his suite, check out this post.
This image comes from editor Walter Murch's FCP7 timeline for the feature documentary Particle Fever. You can find an in-depth write up on Walter's process and thoughts on how to handle an ever changing storyline, over on Digital Films. This next timeline is a helpful look into structuring a feature film – scene by scene.
The beginning of the first assembly for feature, with scene numbers added above for convenience #timelinetuesday pic.twitter.com/L8h719ISRz
— Paul Forte (@PaulForte) May 6, 2014
Nearly finished fine cut of David Attenborough's latest BBC series 'Life Story' #timelinetuesday @AdobePremiere pic.twitter.com/gzyJZEMWHm

— Nigel Buck (@buckingabout) May 13, 2014
Mamas don't let your kids grow up to be editors. #timelinetuesday #postchat pic.twitter.com/FkohBHggsI — Paul Kavadias (@paulkavadias) April 29, 2014
Some timelines are just a bit overwhelming…
The FCP 7 sequence I inherited for my next potential clean-up job. I've never seen anything like this. EVER. pic.twitter.com/TiPoaNwaKI — Zack Arnold (@BurnedEditor) September 26, 2013
On the other hand you can learn quite a bit from editor's who share the progress of their timeline construction from start to finish, which is exactly what editor Dan Wolfmeyer has done in these four tweets.
This may seem insane, but I really think it's the right call. #timelinesautrday pic.twitter.com/YysYc84vLi — Dan Wolfmeyer (@dwolfmeyer) April 27, 2014
Restrung. Now I just need to fill in all those empty spots & do the same for the other 5 acts! 😀 #timelinesautrday pic.twitter.com/uyRZ1jvfmx — Dan Wolfmeyer (@dwolfmeyer) April 27, 2014
This is where I'm at now, in case anyone saw the empty TL on Saturday. Cutting act one. Shane has 2. #timelinetuesday pic.twitter.com/JZIUswI48m — Dan Wolfmeyer (@dwolfmeyer) April 29, 2014
One I finished the other night… #timelinetuesday pic.twitter.com/lKScz72KWO

— Dan Wolfmeyer (@dwolfmeyer) May 6, 2014
A lot of editors like to colour code the tracks of their timelines to keep things organised and on track (pardon the pun). In these two tweets editor Shane Ross shares how he does it.
A finished Act 4 for an episode of A Haunting. #TimelineTuesday pic.twitter.com/G8OuKWDoVy

— Shane Ross (@comebackshane) May 6, 2014
@twainrichardson activate/highlight the track you want. Click on the Fast Menu bottom left of timeline. And…. (Pic) pic.twitter.com/TrOKhFlp5s

— Shane Ross (@comebackshane) May 7, 2014
And sometimes timelines are simply short and sweet…
A little #TimelineTuesday action, editing the @Suns Top 10 Dunks of the Year. pic.twitter.com/RWPA9j3hrY

— Shawn Deloney (@The_Real_SD) April 22, 2014