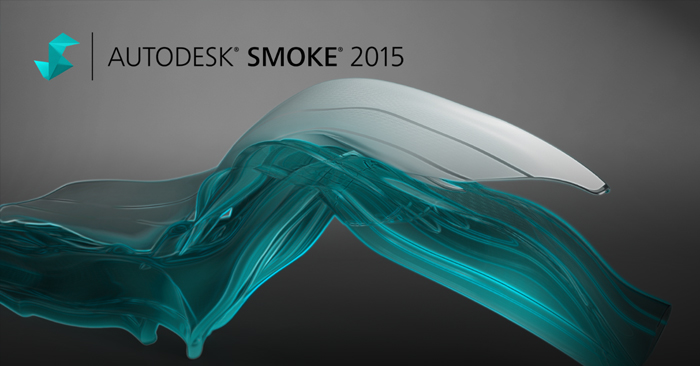 Everything You Need to Learn: Autodesk Smoke 2015
There is a lot to learn about Smoke 2015, even if you are updating from Smoke 2013. A lot of improvements and changes have gone into the software and Autodesk has made it easy to learn for beginners & experienced users.
Autodesk released Smoke 2015 with new timeline effects, a more fluid timeline experience, FCPXML support and 3D camera tracking. The entire timeline experience when you are editing and working with effects is vastly improved over 2013. You will never see an unrendered frame again, as Smoke can playback effects instantly.
If you haven't checked out Smoke and want to, download the free 30 day trial. Even if you checked out the 2013 version, you can still try out Smoke 2015 for free.
Learning… Just Press Play.
Whether you are an existing user and have upgraded to 2015 or are a new user with 2015, Autodesk has made learning Smoke easier and free. In this post, I'll provide a ton of tools to start learning Smoke…
Getting Started Videos
Grant Kay from Autodesk is in charge of the Smoke Learning Channel on YouTube. Here you will find 50, yes, 50 NEW VIDEOS, updated for Smoke 2015.
Grant walks you through getting started with Smoke in easy to view bite sized videos ranging from 2 to 8 minutes each. Each video progresses you further and the information builds upon the lessons from one video to the next.
These video will help a first-timer get started in Smoke and users from 2013 can learn how functionality has changed from 2103.  Every aspect of Smoke 2015 is covered from project creation to importing, to editing, adding effects, exporting, and Archiving.  For many of the videos, there is downloadable media so that you can follow along with the lesson. Grants style is very clean, and methodical, his English accent and pacing clearly guides you through each process. Here is an example:
Intermediate to Advanced Videos
Ken LaRue is the Smoke Technical Marketing Manager and he has put together 15 videos that go more in-depth with Smoke 2015. Ken will show you in some longer videos ranging from 4 min. to 18 mins, some deeper concepts regarding Smoke 2015's Timeline Effects and Timeline workflows. Ken also gives you a deeper understanding of Action, Smoke's 3D Composting environment and ConnectFX,the Node-based Effects workflows.
You may know Ken LaRue from many Smoke Demos at NAB or IBC.  He is amazing to see demoing Smoke as his enthusiasm is contagious.  Ken brings that same enthusiasm in these videos.  Although quicker paced than Grant's videos, as well as being longer, Ken's videos make you feel like he is teaching you one-on-one.  He is as casual and comfortable as he is professional:
You can see Ken LaRue's enthusiasm in one his live demos at NAB 2014.
Even More Smoke Tutorials
Autodesk has another route for video based learning: The Smoke Experience Tutorials. These tutorials, much like Grant & Kens, walk you though the Smoke interface and functions.  The videos are a bit overly structured in that you "unlock" videos as you go along. So the "Experience" doesn't let you jump ahead, which is both a good and a bad thing.  It is a very structured learning experience and is targeted mainly at those first time users or people who have downloaded the 30 Day trial.
The main advantage in checking out these Experience tutorials, is that you can download 4 gigs of footage. This footage is a collection of video and graphic elements and is the same footage that Ken was using in the NAB Live Demo video above.  So it's worth just checking out to have some nice 1080 ProRes elements including green screen to learn with.
This footage was provided by Alexis Van Hurkman, from his short film, The Place Where You Live.  Check out the trailer and some of the effects… all done in Autodesk Smoke.
How About a Good Book?
Video learning is great and the Internet makes it so easy, but sometimes, some people, just learn better by reading. Alexis Van Hurkman has written Smoke Essentials which is a guided walk through of how to use Smoke with more of a project based approach.
Alexis will guide you though 400 pages of how Smoke works and how to create the effects and color he achieved for his short film.  I am happy to say that I was the technical editor for this book and really happy with the way it turned out. Along with the book you can download even more clips and elements from The Place Where You Live, so you can create the effects shown in the trailer. I am also happy to have been a part of the VFX for this film.
Smoke Master Classes
Autodesk also releases Master Classes for many of there software tools. I was invited to produce one for Smoke 2015.  It is a walkthrough and breakdown of how this promo was done.
It is a massive 85 min Master Class showing how Smoke 2015 is used in the real world, on real jobs. I try and give some good tips and workflows for Smoke 2015 as I breakdown the spot. This a good video if you are experienced in Smoke as I jump into the deep end and assume you have at least used Smoke a bit.  After all, it is a Master Class.
Downloadable Setups and Templates
The Smoke Graphics templates I blogged about here have also been updated and archives are available for the 2015 version. Download them here.
This is everything you need to get started with Autodesk Smoke 2015, either as a new user or upgrading from 2013.  As always, if you have any questions, please feel free to drop a comment here at Premiumbeat.