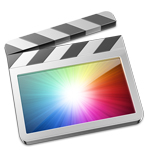 FCPX Updates to Version 10.0.7
Apple continues to improve the new Final Cut Pro X video editing application.  While the update to 10.0.7 does not introduce any signficant new features, it does address many bugs and usability issues.
Video editors – it's time to update yet again.  With FCPX 10.0.7, Apple's non-linear video editing application gets updated to address performance issues.
FCPX 10.0.6 marked the biggest update since the original release and this release simply improves upon stability.  If you've yet to upgrade to 10.0.6 you're already behind, so you'll want to be sure and update now to get a ton of new features (see the 10.0.6 changelog here).
The FCPX 10.0.7 updates addresses the following issues (from Apple.com):
The Letterbox effect "Offset" slider is restored.
Fixes an issue that could occur when creating a single layer DVD.
Fixes an issue in which some third-party effects could cause Final Cut Pro to stop responding during background rendering.
Fixes an issue in which some third-party transitions would incorrectly use black instead of source media.
Adds support for editing MXF files that are still ingesting.
Fixes an issue with rendering Motion Templates containing Image Units.
Fixes an issue with the display of the Modify RED RAW settings button in synchronized and compound clips.
Fixes an issue with the upload of clips that are larger than 1 GB to Vimeo.
Fixes an issue in which an incorrect frame size is used with filters on two adjacent clips with different pixel aspect ratio.
Are you using Final Cut Pro X?  
Share your thoughts in the comments!