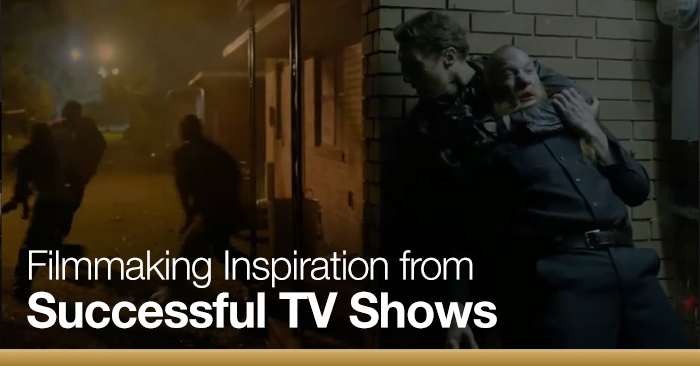 Filmmaking Inspiration from Successful TV Shows
Take style cues from these successful TV shows and apply them to your own creative projects.
TV shows are obviously no longer the poor brother to feature film cinema. In fact, many of the major shows (largely from HBO) have received critical and public acclaim that can provide rich insights into the film and television production process for any aspiring storyteller. In this post, I've rounded up some of the best the Internet has to offer.
The 'net has been abuzz lately with this epic 6 minute single take from the latest hot show True Detective, which you can watch above (Caution NSFW). Cinearchive has a great write up on it here.
'We had ADs [assistant directors] all over the neighborhood because we had to release extras, crowd running background, police cars, stunt drivers. There were actual gun shots and stones being thrown through windows. There were a lot of things to put together,'  – Director Cary Fukunaga
Creating The True Detective Title Sequence
Art of the Title has a fascinatingly thorough write up of the work that went into creating the title sequence for True Detective by Elastic Studio. In the post that is littered with high res images, behind the scenes composites and more, creative director Patrick Clair, shares how they pulled it off with work from three different agencies.
We took the shots from [photographer] Misrach and others, and built them out as 3D projected scenes. We created low-poly geometry for truck stops, oil refineries, and more, and then projected landscape shots overtop, painting in details. Very slow virtual camera moves would then fly gently through these spaces, bringing them to life in 3D. These landscape and portrait elements would then be combined in a single comp with more spatial animation, focus effects, and lots of texture.
If you like the look of True Detective's title sequence then you must take the time to watch this excellent After Effects tutorial from Mike Borup, in which you can not only learn how to re-create the True Detective look, but acquire a ton of After Effects know-how too: Re-creating the look of True Detective title sequence.
Inside the style of The Wire
The video above is extensive, detailed and engaging video essay from Erland Lavik, in which he dissects the, often criticized visual style of The Wire. The reason this video is well worth watching is that by analyzing a show in such detail, you can really learn how to think through your own stylistic choices and the visual meaning they convey. For a great book on this topic, check out The Visual Story by Bruce Block.
Amazon Studios Latest Pilots
For a taste of what the latest output from Amazon Studios has to offer check out the (nicely cut) sizzle above for the latest 10 pilot episodes, as well as this handy roundup on Wired.com. While both Netflix (below) and Amazon are taking Internet production values to a whole new level, it remains to be seen whether the consumer feedback and voting process will help or hinder the progress of potentially great shows.
While Amazon creates pilots you can vote on, Netflix simply creates whole series at a time. The benefit of this is that the series has a chance to breath as a whole, rather than stuffing too much into one attention grabbing episode. Would the slow moving pace of The Wire have made it through?
All 10 episodes are available for Prime users (or those who sign up for free trials) to stream at AmazonOriginals.com, along with the chance to write reviews and rate each pilot, feeding into the company's decision about whether or not to commission a full season. – Wired.com
For an interesting article on the rise of the 'Anthology Series' have a read of Mark Maurer's piece on IndieWire, as he covers the reasons for this particular formats ascendancy.
As Woody Harrelson and Matthew McConaughey proved by boarding "True Detective," the anthology is more enticing to stars who don't want to make a possibly years-long commitment of the type a more traditional format demands. The TV talent pool is deeper than ever before, with the revolving door from the film side ever in motion.
For a plethora of behind the scenes insights from several of the Amazon Studios shows, like this commentary track from author and creator Michael Connolly on the production of Bosch, check out the Amazon Originals Youtube channel.
NetFlix and House of Cards
Although a 'meta' issue to the visual style of television, I thought I'd include this keynote address from Netflix's Ted Sarandos at the 2013 Film Independent conference. It's a great inside view of the innovations going on in film and television production. If you wanted to know what it was like to be at Netflix at the minute that House Of Cards Season 2 launched then this article from Marketplace.org takes you inside the Netflix war room.
The last time House of Cards launched, the engineers figured out that the entire season was about 13 hours. "And we looked to [see] if anybody was finishing in that amount of time," Edberg said. "And there was one person who finished with just three minutes longer than there is content. So basically, three total minutes of break in roughly 13 hours." 

Also as a quick aside if you're a fan of Netflix's House of Cards, you should check out this round up of behind the scenes insights from Season One, previously posted here on The Beat.