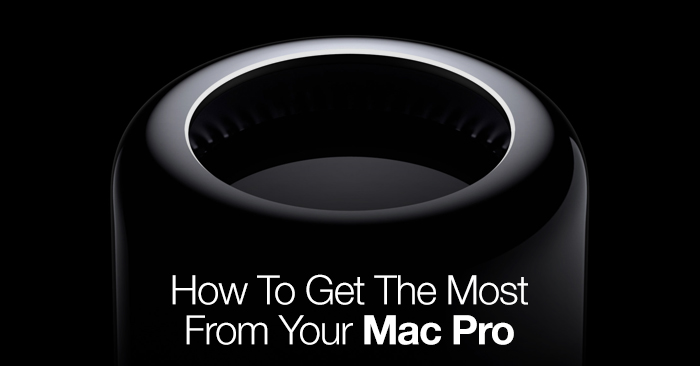 How To Get The Most From Your Mac Pro
Are you a video editor with a Mac Pro? Check out these great resources to make sure you're getting the most from it.
If you've splashed out some serious cash on a 2013 Mac Pro (Apple dropped the 'new' with the release of the 5K iMac) then you'll want to make sure you're getting the best from it. These resources will help you make sure you're optimising your use of both the hardware and software.
In this excellent and concise post from Sam Mestman of FCPXWorks.com you can learn how to best connect devices to your Mac Pro to ensure you're getting the most throughput you possibly can. Sam also helpfully shakes out the marketing hype from the real world truth – sure you can technically connect 36 Thunderbolt devices to your Mac Pro at one time, but really 2-3 per bus is much more realistic for a problem free experience. If you want even more from Sam on the Mac Pro then you should check out this (paid for) short webinar on Moviola.com.
Speaking of hardware, which spec Mac Pro should you get? Well in this previous PB post I pointed to an episode of The Coloristos podcast in which they discuss the merits of the different configurations. Ultimately they spring for the 8-Core, D700 machine. But with the release of the new 5K iMac at lower than the starting price of the base Mac Pro Configuration, many editor's might be tempted to snap that up instead. If you do you'll definitely want to stock it with the best graphics card you can, which in this case is the AMD Radeon R9 M295X 4GB
The reason for having the best GPU's you possibly can in your editing power-house of choice, is that most modern software will offload much of the processing work to these devices. In this example from FCP.co they push the Mac Pro and FCPX to 'silly limits' such as a 1000 layer or 500,000 pixel wide timeline. As these guys found, one of the main limitations for film and video editing work is having fast enough storage to pump through all those pixels.
It seems that the real limitation is a hardware one, yes FCPX will do 16K, but you have to have the storage bandwidth to supply the huge number of pixels per second. When creating that huge timeline, we used the same clip over and over. Making the same timeline from different shorter clips wouldn't be as easy as we think very large numbers of clips within FCPX will slow the machine down.
Optimizing Your Mac For Performance
Tom Wolsky offers some really helpful tips on how to optimise your Mac for best performance in this step by step post over on MasteringFilm.com. Although the post is aimed at FCPX users the tips pretty much all apply regardless of what professional software application you might be using. Tom talks through cleaning out your memory, stopping apps from 'napping' and other performance enhancing tips. Well worth a read.
Though Apple boasts of the capabilities of Timer Coalescing and Compressed Memory in reality when you have many applications open and are constantly switching between them, which we all do, and really know we shouldn't, RAM usage does get overwhelmed.
In this episode of Dave's Tech Table he runs through using Adobe Premiere Pro CC on the Mac Pro and how to make sure you're making the most of your multiple GPUs (5;45 mins IN). Essentially you should just make sure you're not accidentally in 'software only' mode. For more details and results from Dave's rendering/exporting tests check out this post.
If you're an After Effects user and are looking for ways to improve your creative experience then go through this archive of Adobe's best advice for improving performance on both your machine and in the application. The thread covers everything from improving performance before you start After Effects to getting the best performance when working with effects. 
Rather than apply the same effect with the same settings to multiple layers, apply the effect to an adjustment layer. When an effect is applied to an adjustment layer, it is processed once, on the composite of all of the layers beneath it.