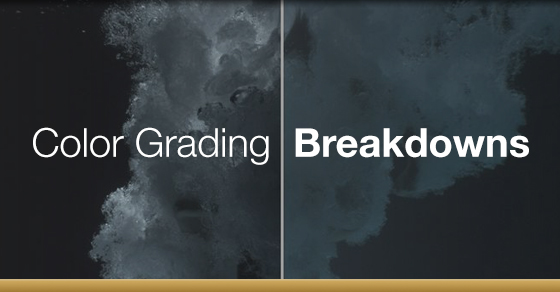 Impressive Color Grading Breakdowns
Pull back the curtain on color grading in these insightful breakdown videos. Studying breakdown videos is a great way to become a better colorist.
Fine tune your color grading skills by spending time examining how a colorist has created a particular look, node by node. Thankfully some colorists, eager to demonstrate their skills, have done this for you.
Here is a quick round up of some great color grading breakdowns. In the video above colorist Charles-Etienne Pascal demonstrates how he created a look for Elisapie's music video 'Life is what you make it'. For each breakdown in his ever growing series, he also provides some extra notes and stills on his website, so be sure to check them out in more detail there too. At the bottom of this post I've rounded up his entire series so far!
Short Film Color Grading Breakdown
Colorist Juan Melara shares some great insights into how he created the look (inspired in part by Skyfall) for the short film Deep Water. Shot on the ARRI Alexa in LogC Pro Res, Juan started his look with a film print emulation LUT.
I used a Kodak 2393 LUT with a D55 (5500K) white point. Which results in a warmer image compared to the common D65 (6500k) white point. This was purely a creative choice – I liked what the warmer white point did to the skin tones, in particular in the interior scenes and also the way it shifts blues towards greens.
In this blog post Juan goes into more detail about creating the different looks needed throughout the film. Although the film hasn't been released online yet, you can still check out plenty of gorgeous looking stills on Juan's site. We previously featured Juan's impressive Hollywood Blockbuster color grading tutorial here. 

Low-Budget Feature Color Grading Breakdown
The Splice Community is a great place to discover new talent and check out some of the work behind their 'work'. In this post on the low-budget feature film Coyote, colorist Tawan Bazemore shares what it took to complete the color grading on the film in just a week. Check out the trailer above or jump over to the Splice Community site to hear more details from Tawan, along with stills from the final grade.
"This was the fastest grade on a feature film I have ever done before. I did all of the styling and the final grade in seven days. Which just goes to show what can be done when the director and cinematography know exactly what they want from you. The amazing thing is that this was one of the first films Joe had ever directed."
More Color Grading Breakdowns
If this isn't enough color grading breakdowns for you then check out these great looks created by colorist Chris Hall.
If you're interested in a more tutorial based color grading breakdown then the DaVinci Resolve series from colorist Jesse Borkowski should fit the bill. Watch each of the videos in this "Creating a Look Node By Node" series in my previous posts here and here.
I See Hue's Color Grading Series
Here is a quick roundup of colorist Charles-Etienne Pascal's (I See Hue) complete color grading breakdown series. Follow the links for each of the videos below to see the step-by-step process he went through to create these looks.
Color Grading Breakdown Series – Shot 01
Color Grading Breakdown Series – Shot 02
Color Grading Breakdown Series – Shot 03
Color Grading Breakdown Series – Shot 04
Color Grading Breakdown Series – Shot 05