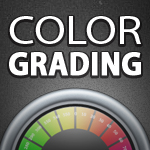 5 Interviews with Color Grading Professionals
Find out first hand what it takes to be a color grading master.  In this post we hear from leading professional colorists.
It is not that often that you get to hear a colorist talking about their work in any great detail but here are five opportunities to hear from color grading professionals about their craft.
Stephen Nakamura – Company 3
Stephen Nakamura is probably one of the most famous colorists around and works out of Company 3. His huge credit list (80+ titles!) reads like a hit list of the best films for the past 20 years. You can see him grading some shots from David Fincher's Panic Room and Se7en here, but more importantly check out this interview about his technical and artistic approach to grading Oz The Great and Powerful on the Digital Production Buzz.
Aidan Farrell – The Farm
Aidan Farrell is a BAFTA winning colorist (for his careers work) and co-founder of The Farm post house in London. In this great podcast from FXGuide Aidan shares some highlights and insights from his 25 plus years as a colorist. As an interesting aside he only works exclusively with Digital Vision's Nucoda system. For extra colorist fun check out the other two colorist interviews on FX Guide's site with Steven Scott (Cowboys & Aliens, Tree of Life,  Iron Man 2, Children of Men) and Peter Doyle (Lord of the Rings x3, Harry Potter x6, King Kong)
Patrick Inhoffer – Thriving as a Colorist
In this Google Hangout conversation Tom Parish interviews colorist and trainer Patrick Inhoffer on how to thrive as a colorist in 2013. Its great to hear how those who aren't the global color grading super stars (everyone else) can up their game in 2013, find more work and become better colorists. At the beginning of the interview Tom mentions Mixing Light which is a brand new membership site from Patrick Inhoffer, Robbie Carman and Dan Moran.
Warren Eagles – In Conversation
In this freebie from the Mixing Light boys, London based colorist Dan Moran chats with Warren Eagles (an international colorist and trainer). What's great about this interview is that its a rare opportunity to hang out in the pub with a seasoned and entertaining colorist with plenty of good advice for younger colorists starting out today.
Robbie Carman
If you've not seen this great walk around colorist Robbie Carman's colour grading suite then check that out while you listen to Power To Create's fantastic interview with Robbie on what it takes to get into the colour grading business and stay in it successfully. Robbie's interview has plenty of technical detail on the hardware and software that he uses day to day.