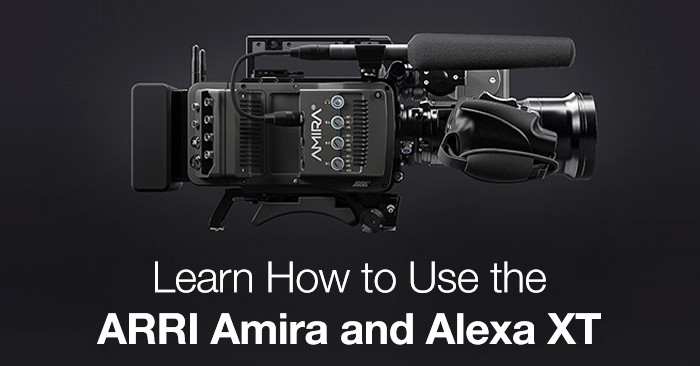 Learn How to Use the ARRI Amira and Alexa XT
Learn how to use ARRI Amira and Alexa XT with these free masterclasses.
If you want to know you way around the ARRI Amira and ARRI Alexa XT then these two hour long lessons from Gunter Noesner, will help you understand what's so special about it. Skip to 3:45 on the video below to hear Gunter talk through a pre-production model of the ARRI Amira fresh from NAB. The Amira is essentially a smaller, more compact version of the Alexa, aimed at single shooters and documentary makers.
In this second talk Gunter talks through in greater detail some of the capabilities of the ALEXA XT (Xtended Technology). He highlights some key improvements to the classic ALEXA including "in-camera ARRIRAW recording, internal ND filtration, switchable 16:9 / 4:3 Super 35 sensor and ARRI RAW download options."
ARRI Alexa 4K Anamorphic Workflow
In this 20 minute lecture from NAB, workflow guru Michael Cioni, CEO of Light Iron Digital, shares his insights on making the most of Arri Alexa's 3K imaging and maximizing it for a 4K world. Although 99% of cinema is finished in 2K, Michael believes that it is becoming increasingly important for content creators – distributing in and outside of the cinema – to be shot in as high fidelity as possible, due to new opportunities in online distribution. At about 12 minutes in, Michael shares the details of his 3K digital anamorphic DI workflow based on Alexa XT 4:3 ARRIRAW footage.
Amira Color Tool – Free Download
The Amira Color Tool, a free download from ARRI currently in beta testing, let's you create, extract and organize in-camera Look files. You can also create 3D LUTs to be used elsewhere in your post production pipeline. The short introduction video above takes you through the essential features of look creation and color processing chain. ARRI also provide a free download of some demo sample Looks.
If you don't own an ARRI Amira camera why should you download this free tool? Well, post production writer Oliver Peter's has a great blog post on how editors, DITs and colorists might want to take advantage of the new tool to create looks saved as 3D LUTs that can be applied to Log footage in your NLE. In this case Oliver has tested it with FCPX and Avid Media Composer 8, which played back Log-C footage from a variety of cameras, in real time with custom looks applied.
The Amira Color Tool is Mac-only and opens both QuickTime and DPX files from the clips I tested. It worked successfully with clips shot on an Alexa (log-C), Blackmagic Cinema Camera (BMD Film profile), Sony F-3 (S-log) and Canon 1DC (4K Canon-log). Remember that the software is designed to correct flat, log-C images, so you probably don't want to use this with images that were already encoded with vibrant Rec709 colors.