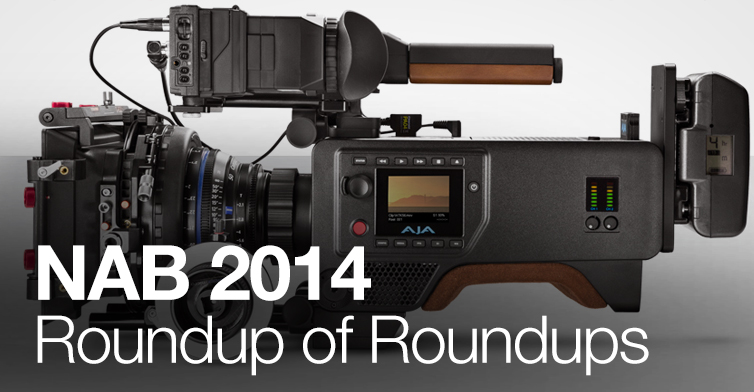 NAB 2014 Roundup of Roundups
NAB is probably the biggest event of the film, TV and video industry when it comes to new tools, equipment and software. This roundup of roundups will fill you in on the latest products and developments.
Whether you made it to NAB 2014 to see the sights for yourself or not, there were plenty of interesting announcements, product updates, new cameras and other new technology to keep up to date with. As an editor the most interesting developments were around all the major NLE's, DaVinci Resolve 11 and more and more Thunderbolt peripherals. But that's just a tiny slice of all that happens each year at the epic National Association of Broadcasters. So let's dive in…
NAB 2014 in Review
One of the simplest ways to get a quick overview of the most important take-aways from NAB 2014, is to digest a few of the many summary blog posts from some of the industries top pundits. To kick us off, Studio Daily has an excellent post summarizing the Top 10 Big Ideas In Production and Post, highlighting some of the best hardware, software, price drops and innovative new technologies coming out this year.
Most Innovative Idea for Production: Andra Motion Focus

Cameras were big at NAB, but the closest thing to a game-changer in the trenches of production was the Andra follow-focus system. It uses a magnetic field and sensors to track motion of a subject, controlling a motor that keeps it in focus, or that rack-focuses quickly and precisely to a pre-determined point.
If you want more info on the magical Andra magnetic follow focus system News Shooter has a great post here.

One of the industries most reliable and readable bloggers is Oliver Peters, and in this summary post he covers everything from 4K, the death of I/O cards, developments for film and why nearly two hours of non-stop funk/dance/disco helped make NAB 2014 a hit for him.
Mac Pro. The new Mac Pro was all over the show in numerous booths. Various companies showed housings and add-ons to mount the Mac Pro for various applications. Lots of Thunderbolt products on display to address expandability for this unit, as well as Apple laptops and eventually PCs that will use Thunderbolt technology. The folks at FCPworks showed a nice DIT table/cart designed to hold a Mac Pro, keyboard, monitoring and other on-set essentials.
Below The Line News has a detailed write up of the show, headlining with something that seems to be making the most noise in the industry is Avid's new moves with the launch of the Avid Customer Associate, Connect and Avid Everywhere.
Launch members of the association include the usual suspects – news and current affairs producers, big broadcasters, and so on – indicating a healthy level of support for the new organization. That said, while the company was eager to discuss the greater integration of its products under the Avid Everywhere banner, one might have formed the cautious impression that Avid is, like its competitors, struggling to excite people with new edit features in such a mature field of software design.
Author and trainer Larry Jordan, shared his thoughts on NAB 2014, rounding up many of the announcements and press-releases that spill out before the NAB show officially launches. He makes an interesting point at the bottom of his post about the state of Thunderbolt 2.
I also gained some behind-the-scenes insight on why Thunderbolt devices are talking so long to come to market. While no one will say so directly, I suspect this the result of two principle factors: 1. A lack of Thunderbolt 2 chipsets which manufacturers can integrate into their products. 2. Issues with the certification process requiring more than the usual number of hoops for manufacturers to jump through. I'm continuing to follow this and will write more about it as I learn more.
For hours and hours of interviews from the NAB show floor you should also check out The Digital Production Buzz's coverage of NAB, which Larry co-presents. Another industry pundit weighing in on NAB 2014 is Bob Zelin from Creative Cow. His round up has a strong hardware focus – his favorite product of the show was the new Sonnect xMacPro rack mount –  peppered with plenty of advice on the changing nature of the industry.
My favorite booth, and my favorite product was Sonnet Technologies, that showed their newxMac Pro. It takes the silly round new Mac Pro, and puts it into a standard 4 rack unit rack mount case. Inside this case is a 3 slot PCIe expansion chassis, which connects to your new Mac Pro with a Thunderbolt 2 cable. This allows you to continue using your AJA/Blackmagic/Matrox/Sonnet/ATTO cards that you already own, and add USB3 cards, and anything else that you can think of, without having to buy special new Thunderbolt 2 versions of the same products.
Lastly the three Coloristos (colorists Juan Salvo, Josh Petok and Jason Myres) share their thoughts on the industries movements in this insightful conversation – live from the NAB show floor. Although they're talking as colorists, there's plenty of great insight for any one working in the film and television industry, with all sides of production and post covered in detail. Also for even more colorist related NAB links and resources, colorist and trainer Patrick Inhofer's Tao of Color post-NAB newsletter is stocked full of them.
NAB 2014 Videos & Interviews
#NAB2014 videos part-1 http://t.co/Mh42WmD2BS http://t.co/OEckNyRXu3 http://t.co/Mkc0hlsbdR http://t.co/VquKYCF9kp http://t.co/GgArIZTXhL

— Double Precision (@DoublePrecision) April 13, 2014
Thanks largely to @doubleprecision I've gathered together a whole host of video collections from many of the major blogs and industry sites covering the event. If you click on the links below you'll be able to jump to each other their entire collections, where I've just pulled a taster video out. There are many hours of interviews to digest if you have the time!
Post Perspective NAB Videos  – View the entire collection.
Pro Video Coalition NAB Videos – Jump to PVC's Vimeo Channel
Cinema 5D NAB Videos – Visit Cinema 5D Vimeo Channel
Next Wave DV NAB Videos – View the entire YouTube Channel
Keycode Media NAB Videos  – Hit the KeyCode Media YouTube Channel
No Film School NAB Videos – Jump to the No Film School channel
HD Video Pro  – Check out the entire Vimeo Channel
Lens Pro To Go NAB Videos – Hit the entire LPTG Vimeo Channel 
B&H Video & Audio NAB Videos – Check out the B&H Youtube Channel
News Shooter NAB Videos – Check out News Shooter on Youtube