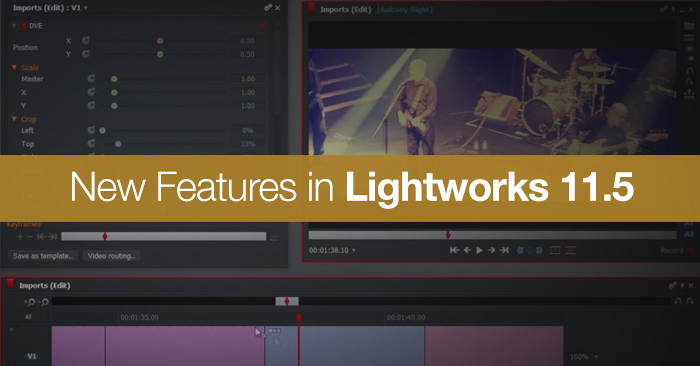 New Features in Lightworks 11.5
Get up to speed with the new features in Lightworks 11.5 with these quick walk-through tutorials.
The latest version of Lightworks brings some great new features to this serious editing application. As of yet it's still only for Windows and Linux, but the Mac version will appear (hopefully) this year. If you've not heard of Lightworks before, it is the only professional level non-linear editing software that is free to download.
The free version is fully functional, but will only allow you to export to Youtube or Vimeo at 720p. The paid for professional version now comes in three payment options:
Monthly – $7.99/£4.99
Annually – $79.99/£49.99
One-time fee –  $279.99/£179.99
New Features in Lightworks 11.5
There are new features allowing for the customization of the user interface, including support for Retina Displays, modifying colors of the program, fonts and more. There are a huge number of new features which allow for a much greater range of flexibility and customizations to the editor's personal preference (which I for one am a big fan of). There is now also support for AJA I/O devices (Kona and Io XT). These first two videos walk you through all the new user interface related features and their implications for using the software.
Background Tasks in Lightworks 11.5
You can now import, generate waveforms, render and export in the background. These features are incredibly helpful time-savers and it's great to see them in this version.
In this next video you can see how the new export options function. Export profiles allow you to export to presets in just a few clicks. The new preset in Lightworks is for direct upload to your Youtube account. Great for client reviews if that's how you do it.
Multicam Editing in Lightworks 11.5
Lightworks allows you to create 'sync groups' (the Lightworks term for multicam functionality) and perform multicam editing tasks in a very quick and efficient way.
Updated Effects in Lightworks 11.5
Additionally, the built-in effects have been updated in 11.5, with a new curves based color correction tool. Lightworks also ships with numerous preset looks for quickly applying a specific style. A lot of the new features in Lightworks can be accessed in a new, right-click method.
The last Lightworks feature that we're excited about is the ability to make use of 'macros' to automate multiple keystrokes into one set of instructions (demonstrated in the next video). Carefully programmed macros can provide a huge efficiency boost for repetitive tasks.
For a full list of all the new features in 11.5 download this PDF and check out the official announcement from Lightworks.