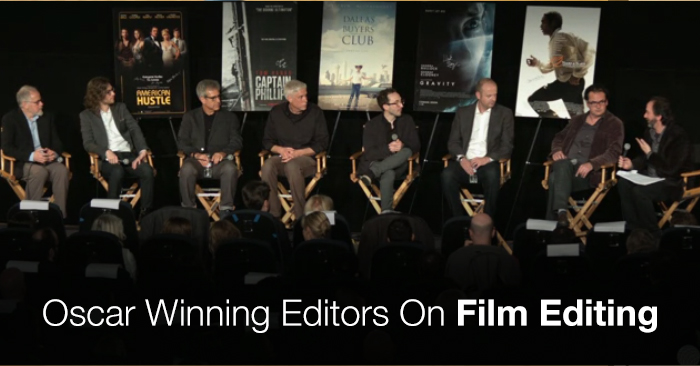 Oscar Winning Editors On The Craft of Film Editing
Hear from Oscar nominated film editors as they share their thoughts and experiences in cutting the year's best movies.
The Invisible Art Visible Artists annual seminar is a real treat for any editor or aspiring editor. It's a rare chance to get all of the Academy Award nominated film editors in one room talking about their work.
In this year's hour and a half discussion, available online thanks to Moviola.com,  you can hear at length from the editors of: American Hustle (Alan Baumgarten A.C.E, Jay Cassidy A.C.E., Crispin Struthers), 12 Years A Slave (Joe Walker), Gravity (Mark Sanger, Alfonso Cuaron), Captain Philips (Christopher Rouse A.C.E) and Dallas Buyers Club (John Mac McMurphy, Martin Pensa). This year's Oscar winner was Mark Sanger and Alfonso Curaon for Gravity.
As the recording of the event is only available via Moviola.com you'll have to head there to check it out – but you can do so in 1080p.
A Conversation With Joe Walker
For a further insight into the art and craft of film editing check out this 20 minute conversation with Joe Walker, editor of 12 Years A Slave, in which he discusses his editing career and close collaboration with director Steve McQueen.
More Insights from Invisible Art, Visible Artists Events
To check out a fistful of more snippets from the 2010 IAVA event – featuring editors like Kirk Baxtor and Angus Wall (The Social Network), Tariq Anwar (The Kings Speech), John Harris (127 Hours), Andrew Weisblum (The Black Swan), Pamela Martin (The Fighter) head here.