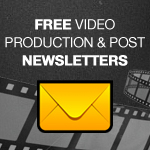 5 Awesome Production and Post Production Online Newsletters
If you're working in film, video and post production you'll want to sign up to these free newsletters to keep up to date with the latest developments, cool projects and creative tips.
There's no reason not to be learning something new every day!  Take time to improve your video production and video editing skills. Here are five of the best free daily and weekly newsletters that will point you in the direction of all of the best content out there on the web. Don't waste your time trawling for great tips when you can have them sent straight to your inbox.
Studio Daily – Daily Fix or Studio/Direct
Studio Daily has two free newsletters – Studio Daily Fix and Studio Daily/Direct. The first is a top notch daily hit of industry news: outstanding creativity, tips and tricks and plenty of other tailored content. There is always a daily video of either a short tutorial, a new trailer or something you've just 'got' to see. Studio Daily/Direct is a monthly round up of some of the most popular stories from the Studio Daily site. Always a good way to catch up on video editing and production tips and news that you may have missed first time around.
Sign up for Studio Daily's free newsletters
Free Color Grading Newsletter
Patrick Inhoffer's excellent weekly newsletter is always jam packed with tons of great links to that weeks best color grading content. There's always plenty of links to tutorials, color grading craft articles and a ton more on the business side of things, as well as a few 'Sunday morning funnies' too.  All enlightening and entertaining stuff.  It's also a great place to stay on the inside track of what Patrick is up to and has got planned next.
Sign up for the Tao of Color Grading newsletter
Art of the Guillotine Email System
Art of the Guillotine is a central hub of all things editorial.  Although its reach stretches a lot further than that, post production is definitely the focus. Essentially the ATOG.com site is a curated RSS feed of the very best the post production world has to offer ranging from editors personal blogs to professional outfits like PremiumBeat.  AOTG also posts plenty of its own content and to be honest, there is a lot to keep up with.  They've helpfully created a nifty email system that lets you create your own newsletter from their wealth of material and lets you decide when it will be delivered to your inbox.  Sign up to the Art of The Guillotine custom newsletter here and check out the intro video below:
Larry Jordan – Free Weekly Newsletter
Larry Jordan is probably the friendliest video editing guru on the web or so he seems from his info-packed tutorials!  His free newsletter dishes up plenty of great free video editing tutorials, articles and inside deals on his vast array of training material. There is also regular updates to his blog where in he shares his opinion on the latest trends in the post production industry. If you're looking to learn more about Final Cut Pro 7 & X, Adobe Creative Suite and many more applications then Larry is your man. To sign up to Larry's free newsletter just head over to his site and click the yellow sign up banner at the top.
The Digital Production Buzz – Weekly Email
Although this isn't strictly a newsletter in itself, the Digital Production Buzz's weekly email lets you know what's coming up on that weeks show.  The DPBuzz show is a great place to hear from some of the industries top experts on a whole host of fields, as well as get the low-down on some of the newest updates, releases and product launches. The show is often hosted by the friendly Larry Jordan and the effervescent Mike Horton. Sign up for the weekly emails by heading over to The Digital Production Buzz site and clicking the yellow sign up bar.
Where do you go to sharpen your video editing skills?
Know of another great post production newsletter?
We want to hear your comments and feedback in the comments!