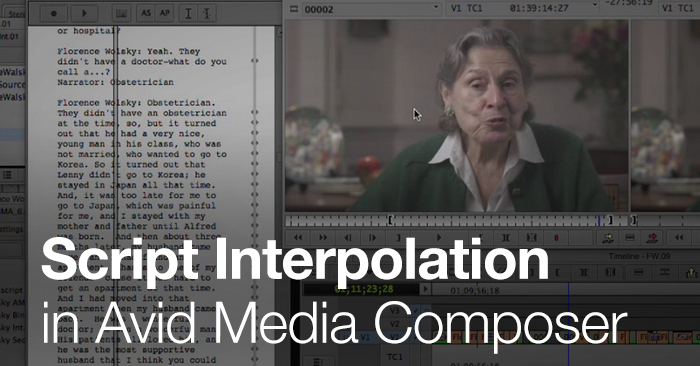 Script Interpolation in Avid Media Composer
You've got a script. You've got your footage. Now, using this trick in Media Composer you can get the two to work together, saving you time and sanity during the edit.
If you're working with a ton of footage (especially interviews) it can quickly become overwhelming to keep track of who said what, when and in what take. Often the first step in the post production process is to get your footage transcribed – making it easier to do a 'paper edit' before you jump into the process in your video editing app. The following video tutorial by documentary editor Steve Audette does one better..showing you how to digitally connect your transcript to your footage in Avid Media Composer (without the Avid SyncScript option).
Steve demonstrates 'script interpolation' – the process of synching up starting and ending points (or words) in your digital transcript to the exact moment they're said on-camera. Then, Avid does the heavy lifting, filling in the space in between…so you can click on any word in your script and it will jump to the corresponding spot in the video.
As he points out, this method isn't always precise. Avid is approximating the location of the 'words' based on the starting and ending points. That said, you can refine it by synching up additional points between the in and out points, making the 'transcript to video' sync even more precise.
Perhaps better demonstrated than explained…see how simple it is to make use of this feature in this Avid Media Composer script interpolation tutorial:
Thanks for sharing, Steve!
Need to get your footage transcribed? Check out our previous post on 3 transcription services for video editors.