Posts Tagged 'retouching'
Need to remove blemishes or smooth skin textures in your footage? Check out this tutorial to see how it's done in After Effects.
In this tutorial we take cues from fashion and glamour print and apply them to video in DaVinci Resolve.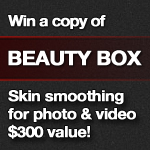 Win a copy of Beauty Box – a powerful skin smoothing and retouching app for photo and video!