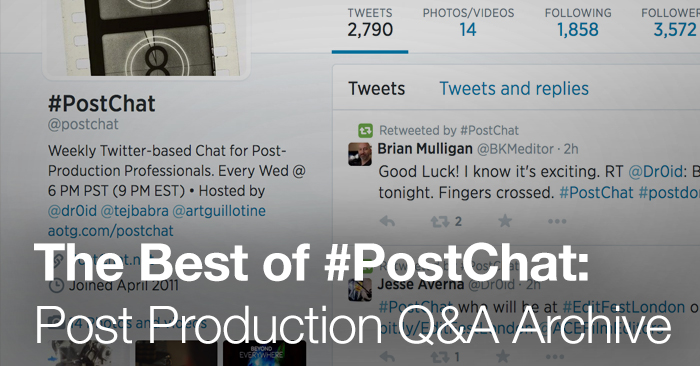 The Best of #PostChat: Post Production Q&A Archive
Ever missed a #PostChat Twitter conversation and wished you could go back and read it in full?

#PostChat meetup at NAB 2014 (from Avid)
The weekly #postchat event hosted by Gordon Burkell (@AOTGNetwork), Tej Babra (@tejbabra) and Jesse Averna (@Dr0id), is a brilliant opportunity to ask post production professionals from around the world, any question you like on that week's topic (there's a new topic each week). PostChat is a twitter based chat for post-production professionals that occurs every Wednesday at 6 PM PST (9PM EST).
My first postchat so go easy on me. Or hard. Love to share info and swap knowledge with you all. #postchat

— Vashi Nedomansky (@vashikoo) June 5, 2014
Previous topics have included editing feature films (led by the editor of Sharknado 2),  cutting award winning documentaries, handling audio, motion graphics, women in post, visual effects and many, many more. #PostChat is also a fantastic way for the gathered post production community to share it's collective wisdom, experience and advice with the rest of the world.
I learned last week #postchat guest needs to use http://t.co/pgWVd7pVAE AND a Twitter window. I missed a lot: https://t.co/chzcOu8NxV

— Michael Cardillo (@MichaelAudio) June 5, 2014
But if you missed the live question and answer session, fear not! Thanks to editor Liam Johnson, (@editorliam) you can quickly catch up on that week's #postchat and explore an extensive Storify archive of previous weeks. Check out Liam's complete archive here.
Starting a cut can be one of the toughest parts of an edit and can set the house you have to live in. How do you tackle it? #postchat

— Jesse Averna (@Dr0id) February 20, 2014
One of the most popular #postchat collections in Liam's archive was the week spent discussing the best practices for starting a project which you can check out here. If you want to get involved in #postchat session then the best way is to make use of this Twitter 'chat room'.