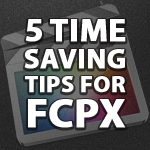 5 Time Saving Tips for FCPX
Here's 5 quick tips for Final Cut Pro X to make you a better (and faster!) video editor.
In the following video, Mark at The Photo/Video Show goes over his top 5 tips for working faster in FCPX.  Some of these tips are pretty well known FCPX features, but others (like using compound clips for audio) may not be so apparent to the new user.  In under 5 minutes you'll pick up 5 must-know Final Cut Pro X tips including:
How to duplicate a FCPX project
Enabling/disabling background rendering
(more info in our post on FCPX rendering) 
Add keyword metadata as you input media
Creating FCPX compound clips for audio
(more info in our blog post here)
Copy and paste effects from one clip to another
If you're looking for more FCPX quick tips check out our previous post on 10 quick Final Cut Pro X tips.  Have any of your own FCPX wisdom to share? Tell us your favorite Final Cut Pro X tricks in the comments!
Follow The Photo/Video Show on Facebook.  Thanks for sharing, Mark!