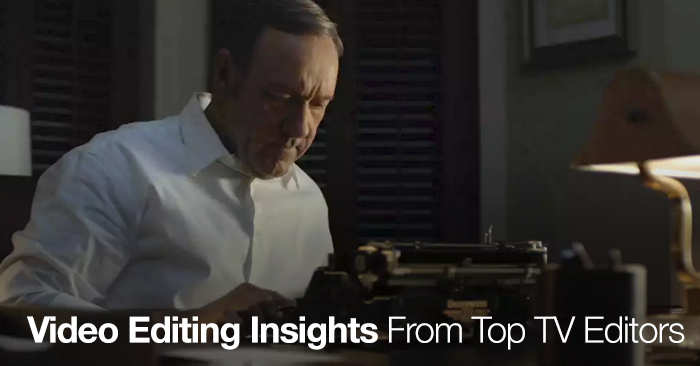 Video Editing Insights From Top TV Editors
The video editors of television's most popular shows offer a wealth of insight into how they solve their most challenging edits.
If you're a fan of House of Cards, True Detective, Nurse Jackie or The Americans, then you'll love these insights from some of television's best editors on solving challenging edit problems. All of these clips were recorded at a recent Sight, Sound and Story event produced by The Manhattan Edit Workshop.
In the first clip you can hear ACE editor Cindy Mollo describe how a scene was reworked in House Of Cards from her first cut to the final broadcast episode. The challenge was having to ask Kevin Spacey to re-do his performance and therefore re-shoot and re-work the scene. But as Cindy says…
"It just cut like butter, he's so professional and it just raised everyone else's game on set." – Cindy Mollo ACE
---
In this scene from HBO's successful True Detective, editor Meg Reticker discusses how the 8th episode differed from the rest of the series in terms of it's more linear structure, compared to the back and forth of other episodes. Check out this previous post for more True Detective insights.
"There are times when you have doubts, are we really going to hold this take? And you have to believe in, that it's really going to air that way."  – Meg Reticker
---
Gary Levy the ACE editor of Nurse Jackie, talks through the challenge of having to seamlessly combine two different emotional tones, as well as frame-rates, in a nuanced episode of the show. This is a great example of the editor's common challenge of adapting an idea that didn't quite work out in the shooting process into something that really plays.
"Even those it's a comedy, it's incredibly serious. There's a lot of technical editing choices being made there. Especially with tone and with those slow-mos." – Gary Levy ACE
---
In this last clip from The Americans, Michael Berenbaum ACE describes how he had to change the musical score to an already cut scene at the last minute. But with a little assistance from the composer and a lot of luck, everything worked out.
"I was told you can't use that music, you have to use this Pete Townsend song that was recorded for another show. And my first thought was "How is that ever going to work?" – Michael Berenbaum ACE