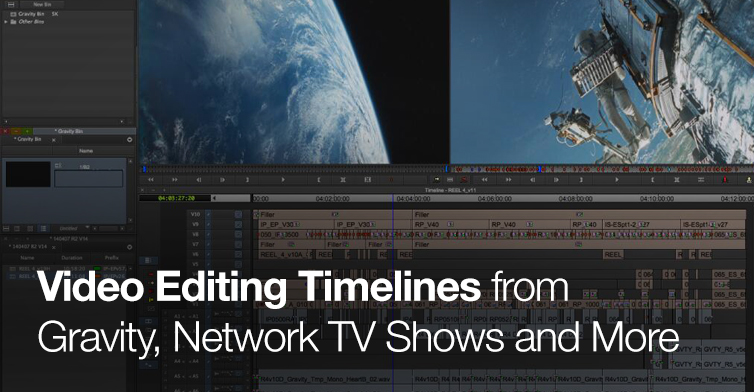 Video Editing Timelines from Gravity, Kick Ass 2, Network TV Shows and More
Ever wondered what the editors timeline looks like on an Oscar winning film? Check out these images to get a closer look!
Oscar winning editor Mark Sanger showed off this screengrab from his timeline of the opening sequence to Gravity, in a talk he gave at the Avid booth during NAB 2014.
It's interesting to see how many layers of video are involved in keeping the timeline together, the extensive use of markers and the native filters and effects he's used too. For a really, really extensive round up of the making of Gravity, check out this post.
Like the Gravity pic? Here's Star Trek Into Darkness! @bad_robot knows how to rock a @MediaComposer. #timelinetuesday pic.twitter.com/8cD3eBn42O — Matt Feury (@MattFeury) April 22, 2014
Tons of Timelines
We've taken to Twitter to roundup the following timeline screenshots from our favorite editors. Click on the embedded images to get a look at these timelines in all their glory!
Take a look at editor Eddie Hamilton's desktop when cutting Kick-Ass 2. Dual 30″ screens. Nice! #PostChat #IBCShow pic.twitter.com/sWuQhAFt6j — Adam Kranitz (@adamkranitz) September 15, 2013
Impressive #timeline of the crash scene from the #movie #Flight #avid #editing #filmmaking pic.twitter.com/2QDQbOuB0n — Jacob Teixeira (@jacobteixeira) July 29, 2013
#TimelineTuesday @Avid @MediaComposer #frontlinepbs Here is a progression triptych of current sequence to Rough Cut pic.twitter.com/9d50Kz73Nc — Steve Audette (@stevecutsdocs) March 25, 2014
Curse of Oak Island. Ep102, act 3. Work in progress. #timelinetuesday pic.twitter.com/myOQI7PBfF — Shane Ross (@comebackshane) October 23, 2013
150hrs > 5hrs> 88mins. pic.twitter.com/nyCAXr8ArK — Paul Forte (@PaulForte) November 29, 2013
For #TimelineTuesday, check out @Vashikoo's first edit of #Sharknado 2 cut in @AdobePremiere: http://t.co/oiFVBNYGMv pic.twitter.com/kC4NI7GoGY — Adobe (@Adobe) April 22, 2014
Picture is LOCKED after 8 months of editing #TWILDM #documentary #PTSD #filmmaking pic.twitter.com/P7ufqruNoE — Vashi Nedomansky (@vashikoo) March 13, 2014
My thickest #TimelineTuesday is for THE GRIND http://t.co/LhsPv3bDXE @AdobePremiere #DeepSauce pic.twitter.com/29xiXRCM4C — Vashi Nedomansky (@vashikoo) April 8, 2014
#TimelineTuesday @Avid @MediaComposer @frontlinepbs #documentary pic.twitter.com/pGSapYO0NE — Steve Audette (@stevecutsdocs) February 25, 2014
Putting final touches on the fine cut of The Gold Conspiracy. #americasbookofsecrets. #timelinetuesday pic.twitter.com/zxmoJTQTq4 — Shane Ross (@comebackshane) March 25, 2014
Over 6 hrs and 45 minutes of footage with 5 audio channels and #PluralEyes is working it's tail off… pic.twitter.com/Zb8alpvcwj — Kanen Flowers (@iamKanen) December 3, 2013
@Premiumbeat Here's a 2 hour reality show timeline. Online will get a long lunch when its render time! pic.twitter.com/HDghxpFInT — Jeffrey Williams (@jeffrey723) April 25, 2014