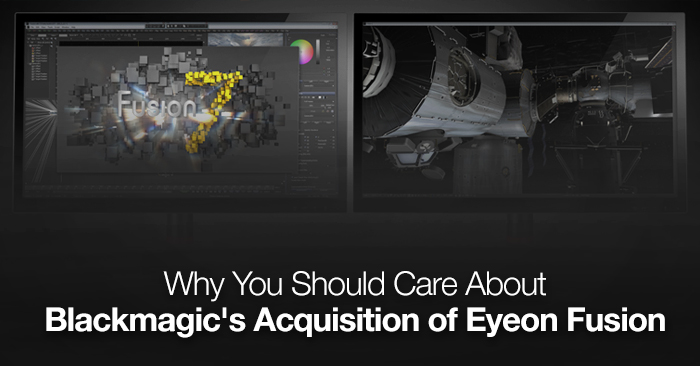 Why You Should Care About Blackmagic's Acquisition of Eyeon Fusion
Blackmagic Design has acquired high-end compositing and effects app Eyeon Fusion, marking their entrance into yet another segment of the professional film and video market.
At IBC 2014, Blackmagic Design announced that they had just (seemingly literally) acquired Eyeon Software Inc, the creators of the compositing software Fusion. Is this something you should be excited about? Given the spectacular way in which Blackmagic Design transformed DaVinci Resolve into a hugely accessible color grading application, yes you should be! DaVinci Resolve used to be hugely expensive, with a semi-clunky user interface and an unituitive workflow. Now it's freely available, sleekly designed and constantly being improved. We can only hope that history will repeat itself with Eyeon's Fusion.
Q: So, Blackmagic, why did you acquire Eyeon? A: I dunno. Seemed like the thing to do. http://t.co/iHQYeaatWY

— Michael Scott (@DorkmanScott) September 15, 2014
So why did Blackmagic buy Eyeon? It's a little tricky to figure out, but time will tell. The best guess is Blackmagic's attempting to go head-to-head with with Autodesk's Smoke and The Foundry's Nuke – both high-end 3D compositing applications. It's not secret that Blackmagic has aspirations to tackle film production from beginning to end: shooting (cameras), video editing, color grading, encoding, monitoring. Fusion excels at combining motion design and composition, a current void in Blackmagic's full production pipeline.
This is what Blackmagic Design president Grant Petty had to say about it in an email he sent out during IBC:
For years we have been amazed by the incredible Fusion software and what an amazing feature set it has for compositing. It has been the tool used on over 1000 major Hollywood feature films and has been used on some of the most recent blockbuster movies for some of the most complex effects scenes in these movies. It's an incredible tool and it's really Hollywood's secret to doing some of these major effects shots.

Now we have just completed acquiring eyeon software and for us, this is extremely exciting as, similar to DaVinci, we now have a second powerful software tool that has remarkable creative power. The guys at eyeon are also excited as now we can add better sales and support for eyeon's software tools. So I think it's a very good match.
What is Eyeon Fusion?
Eyeon Fusion, now in version 7, is a high end motion graphics and visual effects compositing tool that allows you to do things like rotoscoping, keying, and generating particle systems. If you check out the feature film credits listed on the Eyeon website, you'll soon see that it's a trusted and reliable part of the Hollywood visual effects industry's tool kit. In the short video above you can get a feel for Fusion by seeing how you might go about creating a 3D lower third title in the program, using it's node-based workflow. Hopefully the interface will get an overhaul once Blackmagic's design team get their hands on it!
Currently Eyeon Fusion runs around $2,500 US per license. Will we see Blackmagic radically slash the price and improve the app, just as they did with Resolve?
Why Editors Will Want To Learn Fusion
In this 30 minute interview with feature film editor Alan Edward Bell you can hear his take on why Fusion is such a compelling addition to the modern editor's tool kit. Alan uses it to perform all sorts of visible and invisible effects such as splitting performances, speeding up slow performances, creating temp effects and much more. If you're thinking that After Effects is an easier software to learn, then Alan would argue that the node-based architecture of Fusion, instead of the layer-based workflow of After Effects, is far more efficient way to work, especially when taking creative work from one project to another.
"In a layer based universe you can get work done, there's no doubt about it, but when you go back a month later when you have no idea what you did to achieve that stunning visual effect. when you go back to that layer you've got all these nested effects in all these layers. It will take you hours to figure out what you did. And if you want to recreate that on another comp, it's very hard to just take that chunk… and pull it out and add it to something else. In a node based environment that is very easy. With nodes you can see exactly where all the information is going, and what each piece is doing."
Eyeon Fusion Tutorials
There is a wealth of learning materials available from the Eyeon website to help you start creating, including an online manual, a getting started guide and a comprehensive masterclass series of tutorials. If you want even more resources then you should also check out Jason Myres helpful post over on the Lift Gamma Gain forum.