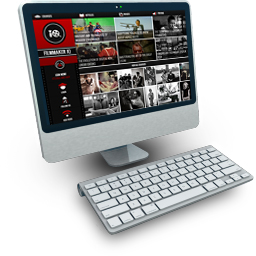 10 MORE Filmmaking & Cinematography Sites You Should Be Reading
These 10 filmmaking sites, ranging from the creative to the technical, will help you step up your game!
My previous post on some of the best filmmaking sites was met with popularity, so I decided to add 10 more sites.  If you're specifically interested in great web resources for post production check out my previous post here.
The following 10 sites represent more of the best online resources to improve your skills and keep updated with the filmmaking industry.  Some of the sites focus on gear, some on process, some on both.  The list is in no certain order. These are all great sites by people passionate about filmmaking and cinematography – be sure to bookmark them!
If you have a favorite filmmaking website (or know one that didn't make these lists) be sure to list it in the comments below!
The Black and Blue
Black & Blue offers real world tips for camera assistants but if you are wearing a lot of hats (doing a lot with little money) it will help you too. Subjects range from practical camera tips to taxes for freelancers. Check out the free practical ebook on breaking into the film industry.
Indietips
Indie Tips has articles/news/tutorials on the complete filmmaking process (writing, directing/producing, cinematography, editing).  This is a good starting point for those new to the industry and or those who work on a variety of projects (indie, corporate, event).  I am a fan of the Audio section, which offers practical tips on working with production music and sound.
Next Wave DV
Next Wave DV offers news, tips and training resources for filmmakers. They have video interviews/reviews as well as a section on NAB coverage. The site offers a nice balance of practical tips and gear/equipment articles.
EOSHD
EOSHD is focused on independent filmmaking with affordable DSLR gear. A good resource for keeping up with current gear and modifications like Magic Lantern. If you are a DSLR filmmaker you should be reading this one on the regular.
Red Shark
Red Shark focuses on the challenges that the modern filmmaker/media professional faces. The site focus on video/film production as well as technology and distribution. They have an excellent section on audio for video for those doing their own audio work.
Filmmaker IQ
Filmmaker IQ is an interesting mix of theory and practice. They offer free courses and film screenings (they provide the links) as well as practical filmmaking articles. I personally dig the film screenings of classic films like "Touch of Evil", which feature plot, details and quizzes.
Kino-Eye
Kino-Eye keeps its focus on documentary film and new media. They have a Feature section that covers technique, reviews, and interviews. There is a detailed Reference section which provides links to filmmaking resources (doc, narrative, new media). This is a good starting point for those new to or exploring nonfiction film.
News Shooter
As the name suggests News Shooter focus is on documentary and factual shooting. They offer reviews, interviews, and hands on articles and videos. A very practical resource for those interested in making nonfiction films!
Cinescopophilia
Cinescopophilia focus is on gear for the modern filmmaker. Gear is broken into categories (cameras, rigs, tripods, audio, etc) so it is easy to find what you need. Check out the extensive resource for finding the right gear for the job (ranges from indie affordable to super high end).
John Brawley
John Brawley is the cinematographer for Puberty Blues (well known Australian Series) who shares his experiences from the set. Recently he has became more well known for his camera tests with the Black Magic Cinema & Pocket Cameras.
Bonus Sites
Here are three popular sites you may already know and are certainly worth checking out:
Pro Video Coalition covers industry news as well as excellent multiple blogs on filmmaking/production/post.
Focused on Indies, Filmmaker Magazine covers all aspects of filmmaking including financing, distribution, and transmedia.
Evan Richards is a cinematographer who looks at the cinematography of popular films. Instead of articles he breaks the films down into still images so they can be analyzed.