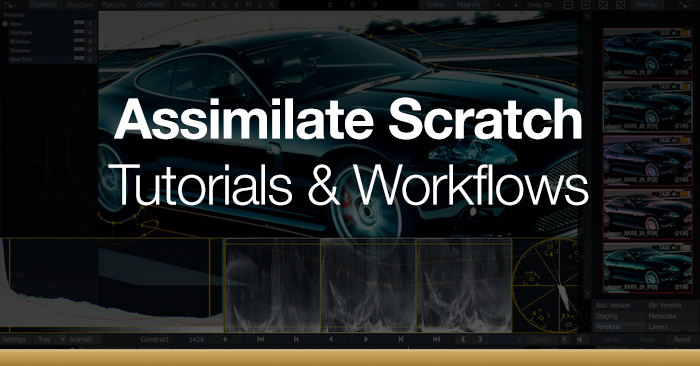 Assimilate Scratch Tutorials & Workflow Webinars
Assimilate Scratch's unique workflow and feature set allow you to apply it's finishing tools to your project for high-end polish. Check out these tutorials to get started with Scratch!
Scratch 8 is the latest version of Assimilate Inc.'s suite of high end finishing tools. If you want to download a free trial to try it out yourself hit up the Assimilate site.
For a completely free Scratch media player check out Scratch Play. I've included several tutorials to help you get started with Scratch Play here.
Check out the demo video for an overview of how you can make use of Scratch 8 Collective tools to work and collaborate remotely via the Cloud. This also allows for remote grading sessions, web-based secure publishing and more. In the 10 minute demo above you get a walk through of the tools in action during a remote grading session.
For even more on how Scratch 8 Collective's features check out this great write up over on PVC of a demonstration from Leo Lovera.
Lovera brought up colorist Oscar Martinez who was actually in Miami to show us how the two could work together on a single shot. The situation they presented was that as the compositor, Lovera needed his expensive colorist to get the shot looking correct, and the two showed how they could work in tandem while literally looking at the same thing.
On-Set and Post Production Workflow
Skip to 6 minutes in the video below to get started with this detailed webinar from Director J R Strickland on his workflow involving Adobe Premiere Pro, Maya, After Effects, Assimilate Scratch, Nuke and Pro Tools to deliver award-winning projects to diverse clients like Absolut, Axe, ESPN and Fidelity Investments:
In this webinar DIT Duck Grossberg (Shutter Island, Salt, Dawn of The Planet of The Apes) talks through his on-set data management workflow, including how he uses the Microsoft Surface Pro and Assimilate Scratch to get the job done. This is a great webinar if you've ever wondered what a professional DIT's workflow involves. For more insights on DIT's check out my 'How To Be A DIT' series.
To see how both Scratch Play and Scratch can be used on a short film, check out this short interview with director Amanda Lippert on her post production workflow for a short film 'Agnes'.
Sam Mestman did the editing of the 4k footage in Final Cut X and transferred the files to Gary, who did the full DI in SCRATCH. For the client sessions, Gary sent the files to me in advance and I reviewed them on the Surface Pro in SCRATCH Play, which has the same GUI as full SCRATCH on Gary's workstation. I was able to make notes and to the sessions prepared. This was an incredibly useful process because it saves both of us a lot of time.
Assimilate Scratch Tutorials
If you're liking the look of Scratch but wanting to get a better understanding of the basics, check out these excellent tutorials for Scratch 7. Or if you're a bit more familiar with it then check out these great tips from SpliceNPost. In the first tutorial (above) Chico demonstrates a quick tip on group grading, then in the second tutorial how to copy attributes and in the final tutorial a look at using Film Convert with Scratch.