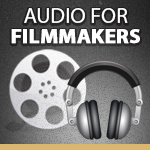 Audio Resources for Filmmakers
These online resources will help filmmakers get the best results when working with audio!
Sound production is a big part of filmmaking/video production that is often overlooked. Whether you are making films, documentaries, corporate communications or wedding videos, the following resources will help you better understand audio and get better results!
1. FilmSound.org
FilmSound has a helpful FAQ on Audio Post Production, as well as articles from 3 time Oscar winning video and sound editor Walter Murch (Apocalypse Now, English Patient, Cold Mountain). The site is geared toward sound editing and design in feature film production and features excellent resources for those looking to get started in the business.
2. Tips for Making Your Film Sound Great
These tips from the pros at Skywalker Sound were taken from a recent Sundance Film Festival panel on successful sound design. Discover some of the most common sound design mistakes filmmakers make, and how to avoid them. As a bonus they share their top picks for sound design from film history.
3. Videomaker "Audio How To"
Although 
Videomaker
 is perhaps best known for their coverage of production and post, they offer a ton of info on
sound design for filmmakers
as well. Covering everything from quick tips to reviews of the latest audio gear, be sure to check out their 
frequently updated audio "How To" section
.
4. Recording Awesome Location Sound
These tips from LAvideoFilmmaker.com will help you record better location sound for your project. Specifics covered include how to choose the best mic, optimal microphone placement, recording ambient sound and basic tips for working with audio in post. While you're on the site be sure to subscribe to their FREE email newsletter on filmmaking tips.
5. Audio for Film
If you're new to filmmaking or sound design, these basics from MicroFilmmaker are a great primer. In this post, you'll learn the 3 components of a solid soundtrack (dialog, sound effects and music), as well as some useful info on creating a successful sound mix.
6. Audio Tips for Video Editors
All too often, audio work is cast aside in post production in favor of spending more time on achieving impressive visuals. This is a crucial mistake. In this post, you'll pick up a few tips for optimizing your audio workflow during your video edit. Picking the right audio monitors (speakers), basic sound mixing and essential audio effects are all covered.
7. Sound Design & Pre-Production
Lights Online Film School is a great filmmaking resource that we've previously covered in our post 10 Filmmaking Sites You Should Be Reading.
8. Location Sound/Audio Post Forum
DVX User is best known as an active camera and filmmaking community, but they also have a forum for Location Sound/Post Audio. Start with the "Audio 101" thread which covers common audio filmmaking questions. If you have a specific audio question be sure to post it in the forum!
9. Sound Series by Clinton Harn
Filmmaker and audio pro Clinton Harn teamed up with Zacuto for a 
info-filled blog series on audio for video
. Topics covered include picking the right mic (and the differences between mics), capturing sound in cars and creating a working budget for
sound recording and design
.
10. Mike Russell Adobe Audition Tutorials
Mike Russell's free Adobe Audition tutorials teach you practical skills (noise reduction, sweetening audio). Anyone using a Adobe based post production workflow can seriously benefit from his often-updated YouTube channel. Also, be sure to check out his 5 free presets (email) to use in Audition.  As an example, check out his video below on recording high quality voiceovers in Adobe Audition:
11. NoFilmSchool – Audio with a Crew of 1
NoFilmSchool is a wealth of information for filmmakers and video pros.  
In a recent post
, they tackled the task of
recording audio
as a one-person crew. Lots of good info here about recording audio with DSLRs to external recorders and mic placement.