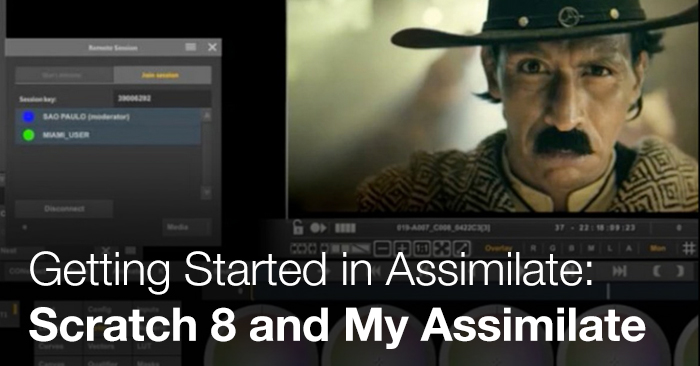 Getting Started in Assimilate Scratch 8 and My Assimilate
Check out these video tutorials to get started in Assimilate Scratch 8 and MyAssimilate.
If you're after Pro Res encoding on a Windows machine, or 4k for the price of 2k, then Assimilate Scratch 8 might have the solution that you need. In the short interview above Steve Bannerman describes what Scratch can do and his take on the future of the 4k, 6k, 8k (and more) race, to Josh Apter from MEW and AOTG.
Assimilate Scratch 8 and  Scratch LAB are the two main products from Assimilate Inc. and if you've ever wondered what the differences are between them, then this quote will set you straight.
"SCRATCH Lab is designed for production and VFX dailies review & comment, conform, primary colour correction, set looks, create LUTs and output multiple simultaneous deliverables. SCRATCH is a full end to end DI system that starts with dailies, and adds full secondary color correction, compositing, finishing and mastering features. It is a full DI house in a box." – Assimilate
With 90-day free trial's available of both systems t's worth it to give Scratch a whirl for yourself. They've also recently announced MyAssimilate which is their collaborative cloud based solution, to allow greater flexibility for freelance artists to work remotely. Check out the brief animation below to understand how it all fits together.
Scratch 8 Video Tutorials
In this fast-paced series of video tutorials, Laura Castelli,walks you through how to get started with the essential basics of Scratch 8:
In this 5 minute tutorial you can learn how to create Apple certified Pro Res exports in Scratch 8 and Scratch LAB, a unique feature.
In this last quick tutorial you can learn how to create a three-stripe colour grading process (similar to the Technicolor 3-stripe process) with Cyan, Magenta and Yellow, as well as getting to grips with the blending modes in Scratch 8.
MyAssimilate Collaborative Solution
My Assimilate works in conjunction with Scratch 8 and Scratch LAB to allow you to collaborate remotely with clients or other artists and consists of four elements: Remote, Project Repository, Scratch Web and the Gallery. Find out all about how they work in the short intro videos and tutorials below!
Other PremiumBeat Posts on Scratch
There's so much happening on the PremiumBeat these days, it can be hard to keep up. Check out these two previous posts for even more Scratch 8 related resources and to check out Scratch Play – the free universal media player.
Scratch 8 Workflows and Webinars | Download Scratch Play for Free