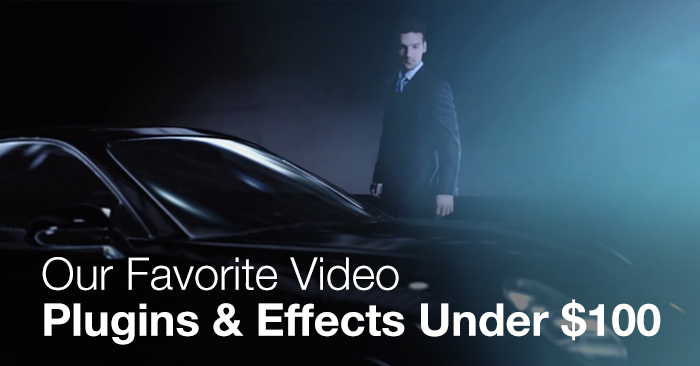 Our Favorite Video Plugins & Effects Under $100
In this post we share our favorite video elements and plugins that will add polish to your project without breaking the bank.
As a multitasking editor or motion designer you will need resources (elements, plugins) to help you create compelling content. There are some great free elements and plugins out there, but sometimes you need a library of elements, certain textures or a specific plugin to get the job done.
The elements and plugins we've rounded up in this post will add polish to your project without breaking the bank.
Several of the elements below use Cinema 4D Lite which is bundled for free with After Effects CC. If you've yet to break into Cinema 4D, check out these videos from Grayscale Gorilla, Motionworks, and Adobe that can help you quickly get up to speed with it.
Lens Distortions offers a variety of 30 lens distortions in their "Original 2K" package for $49. (They offer 4 packages from $49 to $99). These light leaks and streak effects are filmed through shards of crystal/glass to create the distortions.
The elements were all shot on RED in ProRes format (23.97). As well, they come with After Effects templates. The templates include AE effects that you can tweak for a specific look.
Lens Distortions also integrate well with composted 3D elements, which is demonstrated in the demo video. They have a helpful FAQ, and you can download samples before purchasing.
Check out this demo video and workflow tutorial showing you how to get started with these products:
MovieType ($79) has over 230 text presets that are designed to work in Cinema 4D Lite.
You may be thinking, how can you use a text plugin to create a polished look? Well, the majority of TV commercials use a combination of After Effects and a 3D app. So if you want you projects to have that "look", the ability to create good looking 3D text quickly is important.
Even if you haven't opened Cinema 4D Lite, it comes with 21 video tutorials to help you get started. Jump on over to Motionworks to check out a demo video and get more info.
The PixelLab Material Pack is $50, and offers over 500 materials/textures for Cinema 4D (also works with Cinema 4D Lite).
You can use them hand in hand with MovieType Lite to quickly create polished looking text. As an added bonus, PixelLab offers a bunch of free models for Cinema 4D that you can also apply the Material Pack to.
FX Elements offers a variety of packs (glitter, air particles and flares) for $49.
They are 2K Pro Res elements that you use in in "overlay" or "screen" blend mode (they don't have alpha channels). Follow their blog to keep up with their new releases.
Light Leak Love offers a collection of overlays and transitions for $35.99, including light organic, crystal and star trek.
You have a choice of 29.97 (NTSC) or 25 (PAL) frame rates.
Vegasaur offers 2 light leak bundles for $49.95 They have preview movies of their light leaks in action. They also have Particulas, which is a collection of 50 organic particle effects:
Edit with Light  has recently released Lines ($9.99), a collection of animated  line overlays that come with an alpha for compositing:
Rampant Design has a Style Matte Series ($59) that lets you elegantly transition your footage on and off the screen:
Video Copilot was one of the first sites to sell elements and affordable plugins. What I like about their stuff as tend to provide tutorials and presets and with their products so you can quickly up to speed with them.
Riot Gear ($49) offers 150+ visual elements including paint, ink, grunge and TV noise. It provides a basic library of elements to get you started.