PremiumBeat vs. Artlist — what are the differences between library size, pricing, licensing, and more.
---
Creating killer content requires more than just raw talent. Sure, talent is essential, but that's not where the story ends — especially not in today's hyper-competitive online content market. If two equally talented content creators make similar videos, but one uses professional-caliber assets and one simply wings it, the video with the extra effort will get the views.
What used to be reserved for niche entertainment and creativity has gone mainstream. Every successful brand on the market today makes tactical use of effective content across their social media profiles and in their advertising. The Big Data algorithms have pegged most of our interests and shopping habits. So, with the right information, a brand can hit you in the weak spot, and before you know it you're an Instagram follower watching a clever video and clicking "buy now."
Sizzle reels, interviews, featurettes, advertisements, PSAs, and plain-old interesting stuff—it has all found its way into the market. Even straightforward narrative and documentary films are seeing an increase in output as more and more filmmakers are picking up affordable cameras and leaving the studios behind.
While it sounds like all of this content is stacking up against you, it's not. Part of creating killer content means rising above all the talent around you and presenting material that's just this little bit better. That might mean better motion graphics, crisper audio, or (in our case) better music. Royalty-free music has done for the soundtracks of the world what technological advances have done for equipment trailers. Content creators can now access professional-caliber music, which puts the finishing touch on professional-grade DIY production.
We at PremiumBeat are striving every day to make sure that our royalty free music library meets all of your needs, but we know you have options. There are several viable music libraries out there to choose from, and the differences between them can be subtle and nuanced. In the hopes of improving our own offering, we've been taking a look at what the others are up to and seeing how we measure up.
In this article, we'll take a look at one of our cooler competitors, Artlist. We're going to see if we can suss out the differences in quality, licensing, pricing, and search. Obviously, obviously, our coverage is biased — we're trying, but let's be real. So please do explore Artlist for yourself. You really need to go straight to the source to see for yourself what a library has to offer.
PremiumBeat vs. Artlist
---
1. Music Library
This first comparison will be the libraries themselves. PremiumBeat and Artlist offer a similar product, so we'll have to drill down to find the subtle differences. When you're aiming for best-in-class content, that means not only using high-quality music; it also means using high-quality music that's right for your project. PremiumBeat has a library of over 20,000 songs, covering just about anything you can think of, including loops and stems so you can remix the tracks yourself. Artlist has a library of over 12,000 songs, and they focus on full-length tracks and sound effects.
So, with libraries this big, finding the right track is the name of the game. Search functionality is a big part of this, which we'll cover in a bit, but there's also the process of discovering what you're looking for by approaching the library from a different angle. For example, browsing a library according to the feel of your project means you have an experience in mind, and you'd like to explore music that fits. Rather than searching for something specific, browsing genres and moods more generally can help you match the ambiance of the perfect track before you nail down the perfect track itself.
At PremiumBeat, we work to improve our library every day. That means more than simply adding professional-grade tracks. We're also constantly analyzing our browsing experience to make it easier, faster, and more satisfying. Our genre collections include everything from audio logos to blues to jazz to hip hop—instrumental, ambient, film scores, vocals, electronica, and even music for kids. If you've heard it somewhere, chances are we have tracks available. Our in-house experts are doing hands-on work on our collections from acquisition to contributor relations. This is what we mean when we say you can explore our library by feel. Our music moods range from sports to humor to wedding music to simple ideas like "happy" or "sad."
The artists who create the tracks for our catalog are always working to meet our standards of quality, which we've developed to find only top-quality material for projects of all kinds—especially those that need to go above and beyond.
Our constantly growing collection of PRO-free (Performance Rights Organizations) tracks means you can score your project with tracks that are rights-clear for full broadcast or distribution. With all the options for royalty free music available today, the difference between one library and another can come down to narrow margins of quality. If you're creating content for YouTube or another personal project, you may not need to license PRO-free tracks. But, if your project is bigger in scope and you're planning RTVF broadcasting, many industry gatekeepers are going to demand PRO-free tracks just to make sure everything is above board. Our PRO-free collection has just what you need.
But the library isn't just about which tracks you can take all the way to Hollywood. One of the challenges for independent content creators is finding music that sounds appropriately epic. To meet that need, we developed the Masterworks collection—a suite of live recordings of professional orchestral music like you would hear in any of your favorite big-budget productions. Listen for yourself—this collection is one-of-a-kind in the industry.
Artlist also tailors their library for content creators who need this full sound. The library is robust, and even a quick glance at Artlist's main landing page makes it clear that they keep many different types of content in mind in the curation of their library. Artlist concentrates on full-length track downloads, rather than parceling them into editable pieces. Like PremiumBeat, Artlist spends a lot of time optimizing the search functionality with advanced filters (more on that later). Artlist, like PremiumBeat, also allows you to browse based on feel or genre, rather than very specific search terms, should you still be in the exploratory stage for the spirit of your project. You can dive immediately into the full list of available songs, search by staff pick, filter by tempo, or browse according to duration.
The two libraries are similar in quality and searchability. Both collections clearly offer more than simple lists of tracks to appeal to content creators who want to take their time exploring for the perfect soundtrack. The most notable differences between these otherwise-similar libraries are PremiumBeat's live orchestral Masterworks collection for cinema-quality soundtracks; the loops, stems, and shorts available for each track in PremiumBeat's library; and PremiumBeat's PRO-free collection.
2. Music Licensing
The benefit of royalty free music is that you don't have to worry about takedown notices for your projects due to copyright infringement. Every track you license (from most royalty free libraries) comes with rights protection. That means the libraries have agreements with the musicians to allow you to use their music—for a fee. So, let's look at the two options here, PremiumBeat and Artlist, starting with PremiumBeat.
Single Purchase Standard License
At PremiumBeat, we've divided up your licensing options between non-commercial and commercial projects because plenty of content creators aren't yet monetizing their work (you'll get there!), so we try to help you save some money until you're ready for that step. If you need a single track (not a subscription) for a non-commercial project, we offer the Single Purchase Standard License. It costs $49 USD, and you are free to use the track in as many projects as you want for as long as you want—the agreement never expires.
This license is specifically for online projects. Each download also includes shorts, loops, and stems, meaning you can customize the music so it's unlike anything anyone else is using. Getting set up with this license is easy, particularly if you're saving money and spending some quality time on one project at a time.
Monthly Subscription
If you need more than a single track now and then, and you'd like to bundle a few to save money, our monthly subscription plan is our most popular model. This license does not cover monetized content (more on that below), but it gives you five tracks per month at only $12.99 USD per track—substantially cheaper per track than the single purchase standard license. Unlike many of our competitors, our subscription term is short: only three months. So, we won't tie you up for a full year; rather, our subscription term is designed to help you cover one or two projects in your active rotation, allowing you to re-evaluate and re-subscribe only when it makes sense. Your downloads include full tracks (both .wav and .mp3), also with shorts, loops, and stems. The same terms as the Single Purchase Standard License apply to the subscription license.
Premium License
So, if you need licenses that will let you monetize your work, in perpetuity, that's where our Premium License comes in. We designed this one for professional production going into RTVF broadcast, distribution, or any other commercial operation — you name it. This license is $199 USD per track (not a subscription), and as with the other licensing options, you get full tracks, shorts, loops, and stems. This license also gives you the right to edit and remix the tracks however you like, so you can create truly one-of-a-kind tracks.
---
Artlist Pricing
Artlist offers three pricing models. The strength of their offering is that each model offers unlimited downloads, and you can use them in any project, anywhere, as many times as you like — commercial or personal. The subscriptions are each for a period of one year, and they renew automatically unless you cancel. The breakdown is as follows:
Unlimited SFX and Music: $299 USD, billed annually ($25.00 USD/month)
Unlimited SFX: $149 USD, billed annually ($12.41 USD/month)
Unlimited Music: $199, billed annually ($16.60 USD/month)
The unlimited model is great for content creators comfortable with a recurring monthly fee or the money on hand to pay upfront. The sound effects library is a great resource for indie sound design, and the SFX-only subscription comes in as their most affordable subscription. The only caveat comes with the relatively low amount of tracks available. Even though the unlimited consumption is great, power users may realize they've consumed the best tracks within a short period of time.
3. Music Search
When you're working with music libraries as large as these, search functionality is everything. Both libraries have established reputations for high-quality music, so both PremiumBeat and Artlist go to great pains to offer a search experience that helps you find the music you want, and find it fast.
A popular way to begin searching is by using suggestions. The "Browse " tab on the PremiumBeat homepage takes you straight to the music library itself, where you can explore trends, recommendations, and new releases. Artlist offers a similar experience with their "Spotlight" feature, which takes you to collections based on various themes that can help you narrow down your search.
However, a few suggestions aren't always enough to help you pick the needle out of the haystack. When you need to take more control over your music selections, PremiumBeat and Artlist offer search tools that can help you make one decision at a time until you find what you're looking for. PremiumBeat offers genres and moods when you click through to our "music" tab from the homepage. Artlist allows you to toggle between music and SFX to run complementary searches.
Let's take a look at the different tools you can use to filter your music searches at the two libraries.
PremiumBeat
Genre
Mood
Beats per minute
Duration
Artists
Instruments
Advanced (Surround, Stems, Shorts, Loops, PRO-free, Available with subscription)
Artlist
Mood
Video Theme
Genre
Instrument
Temp
Duration
Both libraries offer songs with lyrics or without. The two different sets of filters are indicative of what many royalty free music libraries offer. As an industry, we have shared ideas about what users want and how they want to find it. The user experience is of utmost importance to those of us in this industry, and as the competing libraries continue to grow, we'll see more and more innovation about how to handle the sheer volume of options.
At PremiumBeat, we're expanding the variety of tracks you can license on our site. Need ambisonic or ASMR sound for games, VR, or 360 video projects? We've got it and more in our music library.
4. Music Quality
When you're evaluating a royalty free music library, quantity is definitely a concern. The more options you have, the more likely you are to find music that fits your project — and not everyone else's. However, as the adage goes, quality is more important than quantity. If our library included 20,000 average-quality tracks, it wouldn't be worth much. A much smaller library with best-in-class tracks would be a better decision any day of the week. That's why we go to such pains in our music selection process.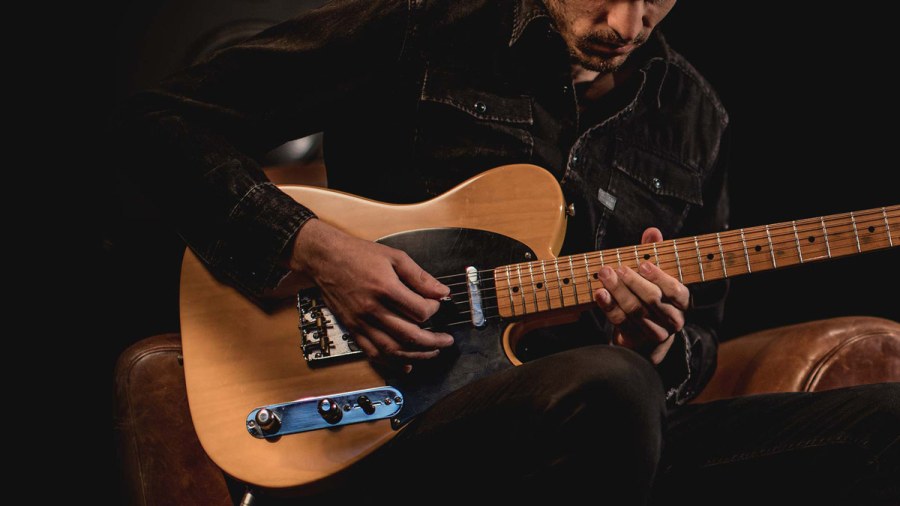 Our in-house professionals come directly from the music industry. As a team, they vet each new track three different times before it joins our library. Every song you hear in the PremiumBeat library is exclusive, so you won't hear it on another site. And since we include loops, shorts, and stems with every track, you can edit your tracks of choice into truly unique compositions no one will hear anywhere but in your project. Because we're always expanding our offering, you're never browsing the same collection twice. We want to give you a reason to come back again and again, and that means pro options that get bigger all the time.
We also maintain a global perspective that we think is important in the royalty-free music field. The best content takes its cues from anywhere in the world—not only the familiar sources everyone is used to hearing. Our world genre contains music from twenty different cultures, so you can bring true authenticity to a projects looking for global appeal. Because tastes and trends are different in different locations, our global collection can help keep you up to date with what's hot, wherever you may be working.
Artlist shares our passion for quality music, or they wouldn't offer such an impressive library. You can be sure they're working just as hard as anyone else to get full-length tracks in the hands of filmmakers who need that sort of music for their projects. We encourage you to explore both libraries for yourself and see what each can offer, as no two are alike.
5. Industry Expertise
An important aspect of building and sustaining resources for content creators is knowing what that creation process looks like. If you aren't creating your own content, then you have no idea what it takes to offer professional resources that can give creative projects a competitive edge in the battle for viewers.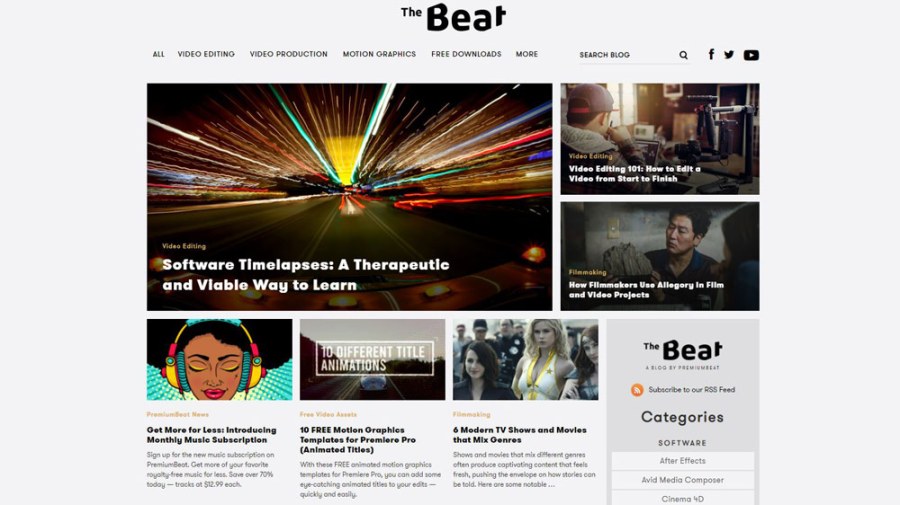 Here at PremiumBeat, we know content. If you've ever seen our popular blog The Beat, then you know that we publish dozens of filmmaking articles, interviews, tutorials, and reviews each month. The editors and writers on our content team all have industry experience with indie filmmaking, corporate filmmaking, video game design, YouTube, vlogs, social media, and marketing. We create video content just like you, so we know what you need when you're ready to pick the music for your project—we use our own music all the time.
If you want to see what we're talking about, check out our YouTube channel. Our contributors come from all over the world, and they have been finding their own solutions and solving their own filmmaking problems for years. We explain everything from proper light setups to post-production workflows. And like we said, we use PremiumBeat tracks in every video—it's all detailed for you in the metadata. We stand behind our tracks because we see what they can do every day on the PremiumBeat channel and in our own work.
We know that we're not all at the same stages in our content creation careers. That's why we have tracks for projects of all sizes. Modify them how you need and make a unique statement with every project.
---
Summary
The two libraries clearly offer an impressive number of tracks, meaning there are options for virtually any project. The search functionality between the two is similar, as are the filters you can use to narrow down your search. So if both collections offer professional quality, plenty of options, and an intuitive search experience, which one should you choose?
That decision comes down to how you like to work. Artlist gives you plenty of downloads, so if you need an infinite number of songs, they're a solid option. PremiumBeat has a single-song option and a subscription period of only three months, so we won't tie you up for quite as long, which means you can save a bit of money if you're only working on a few projects.
Artlist offers full-length tracks that focus on an epic, pre-fit feel. PremiumBeat gives you loops, stems, and shorts with each track, so if you intend to work with pieces of songs at a time in your project, you have more customization options at PremiumBeat.
So the two libraries are very close. But, we like to think that if you need to save a little money and truly customize your sound, PremiumBeat has what you need. Like we said: don't take our word for it. Go explore for yourself, and keep creating!