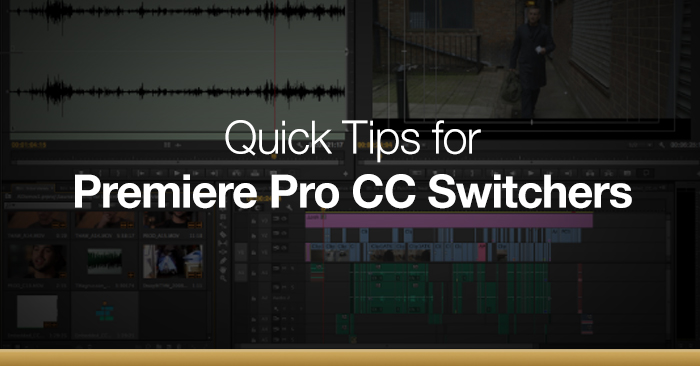 Quick Tips for Premiere Pro CC Switchers
Switching to Premiere Pro CC for the first time? Here are 5 quick tips to get you up to speed on Premiere.
If you're new to Premiere Pro CC or switching to it from something like FCP 7, there are a ton of great resources right here on PremiumBeat that can help you get started. For starters, you should definitely check out Danny Greer's post on 10 Tips for Premiere Pro Editors, and Clay Asbury's post on Ten New Features in Premiere Pro CC, FCP Editors Will Love for a great orientation lesson with the software.
I thought I'd add my thoughts to the mix to help you make the switch by focusing on a few things that Premiere does differently that might catch you out the first time around.
Getting Set Up in Premiere Pro CC
First of all you should know that you no longer have to manage your Scratch Disks every time you open or switch projects. In Premiere Pro CC  you'll automatically switch to whichever project is currently open and the destination you selected when you set it up. You can set all of these with one click when you setup your new project (top drop down menu in the image above), or toggle them to permanent destinations in each of the relevant drop down menus.
Next, you should be aware that Premiere (unlike Avid Media Composer) really doesn't mind what NLE you used to edit with, it's just glad you're here. So in a come-as-you-are approach you can easily set your keyboard shortcuts to FCP7 mappings…or Media Composer for that matter. To do this, or to create your own custom keyboard shortcuts, click on Premiere Pro > Keyboard Shortcuts to open the keyboard shortcuts window.
One thing that I've found (am I doing something wrong?) is that if you load a custom preset (for example Jonny_FCP7, as shown in image below), and then change something inside that preset, Premiere Pro will default it the [Custom] setting. The only way to update your custom preset (Jonny_FCP7) is to then 'Save As…' over the top of it. This is kind of annoying.
Tidy As You Go
A handy thing that Premiere Pro does, that I prefer to the way Final Cut Pro 7 used to do things, is that it will automatically tidy any new asset you import or create into the bin that you had selected when you imported it. This a great way to keep your files tidy as you go. The only downside is that if you forget that you had a certain bin selected, and suddenly you can't find your file, you'll just have to remember to go back and find that previously selected bin.
Three Tips on Working with Titles
The text and title features in Final Cut Pro 7 where never very good (ok, they were downright terrible). One of the benefits of switching to Premiere Pro CC is that you have a much, MUCH more fully featured text function within the app and you can easily dynamic-link to After Effects for even more sophisticated functionality. That said there are a few things that Premiere Pro does differently.
First of all you can't simply copy and paste a text clip on a timeline to make a new fresh independent text clip. You will merely make a duplicate of it. This is one of the ways Premiere does things differently. So you need to create a new title every time you want another piece of text in your show.
A good way to do this, especially if you have spent time finessing a particular font selection, size and design is to use one my favorite buttons in Premiere (which is highlighted by the top arrow in the image above). It's the 'New Title Based on Current Title' button. This will create a new copy with all the same text and details you can then edit. An alternative, if you Alt (or Option on PC)+ drag a text element in the timeline it will make a new independently editable version of the text clip. Just like FCP7 used to do.
The second arrow at the bottom of the image above, is highlighting another great feature in Premiere Pro CC. With a few clicks, it will auto-center your text on the horizontal or vertical axis' or both. It's the little things that matter most!
One final point about working with text elements in Premiere Pro, which may hang you up if you are used to FCP7, is that whereever the playhead is on the timeline, that is what you will see in the background of the text editing window. So if you have duplicated a text element and your playhead is still sitting on top of it, you will see it in the background but you won't be able to touch it. The very first time I used Premiere Pro confused me a lot. It seems pretty obvious now, but at the time I just couldn't figure it out!
Anything Premiere Pro feature you like more than it's FCP 7 equivalent? Got any tips to share for new Premiere Pro editors? Share your thoughts in the comments below!