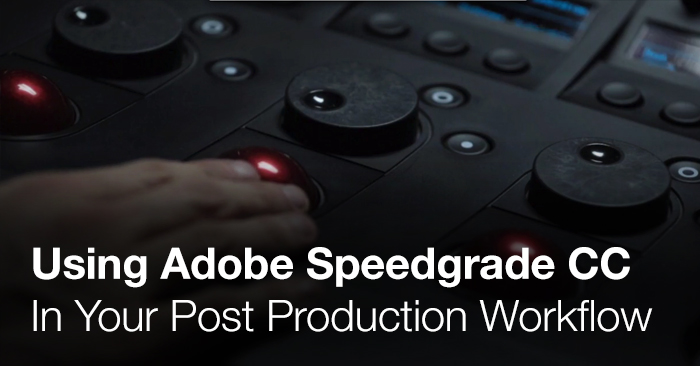 Using Adobe Speedgrade CC In Your Post Production Workflow
Make the most of Adobe Speedgrade CC by incorporating its color correction and grading capabilities into your post production workflow.
If you're are an Adobe Creative Cloud subscriber then you currently have access to Speedgrade CC, a color grading application that is a key part of the Adobe post production suite.
Have you downloaded it but not yet used it yet? In need of some inspiration for what you can achieve in Speedgrade CC? Check out the video above featuring German director/colorist Thomas Bergmann – who runs the boutique film studio Silbersalz.
Silbersalz's commercial work is pretty stunning, and it's amazing to think it was all achieved inside Speedgrade CC – the very same application possibly currently sitting on your desktop. Eric Philpott has a great interview with Thomas over on Pro Video Coalition, with plenty more inspiring stills from their work.
"SpeedGrade is very precise and gives me nine different areas of adjustment to the overall image—and that's before we even get into masks and secondary color corrections! We can go into the highlights and blacks and change the gammas or increase contrast in the middle, giving us even more control over the clarity of the image and colors. If you want to put in the time you could achieve something similar in Davinci, but in SpeedGrade it is faster and the luma and colorometry look sharper and crisper."
Now that you're all inspired about using Speedgrade you might want to learn how to use a Tangent Element Control Surface, as used by Thomas in the video above. The free preview video from a 5 hour Speedgrade training course by Patrick Inhofer (from color grading subscription site Mixing Light) might be a sensible next step to truly master the application. You can check out the official Tangent Element site here. Check out the rest of the free previews further down this post!
What's new in Speedgrade CC 2014?
As Adobe updates all of their apps on a regular basis, its tricky to keep pace with all the latest features. This short video from Adobe's announcement at NAB 2014 provides a quick overview of all the new features. If you want a much more comprehensive walk through of Speedgrade CC and it's workflow then this 20 minute seminar from world wide evangelist Joost van der Hoeven will tell you all you need to know.
Adobe Speedgrade Tutorials
If you're looking for a way to give you footage a quick 'cinematic look', then this Speedgrade CC tutorial will show you how to do just that, in under 10 minutes flat.
In this 40 minute overview Dave Andrade walks you through the whole of the Speedgrade CC grading workflow, working with some interesting footage from a Zombie short film.
In this tutorial Dave shares some quick tips and tricks for working in the timeline in Adobe Speedgrade CC.
Adobe Speedgrade Training Series: Free Previews
As promised here are the other free preview videos from Mixing Light's Insights Training on Adobe Speedgrade CC. If you want more free training head over to Speedgrade's Adobe TV channel.
Other PremiumBeat Posts on Speedgrade CC
Last but by not least, PremiumBeat blogger Aaron Williams has a couple of other great posts on working in Speedgrade. In the first post he shares how to create an 'aggressive vintage teal and orange look' in a detailed step by step guide. It's a great post, packed with adjustment by adjustment images, so you can really see what's happening at each stage.
In the second post he describes how to make the most of adjustment layers to shape your grade inside Premiere Pro, After Effects and Speedgrade.
Got Speedgrade tips to share? Let us know in the comments below!