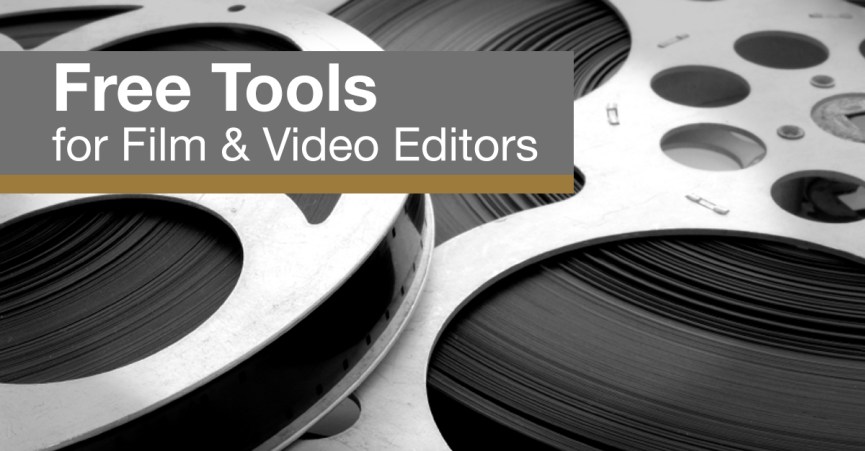 A Huge Roundup of Free Tools For Film and Video Editors
Who doesn't love free stuff? Check out this round-up of free light leaks, templates, tools, presets, film grain and more to add some shine to your everyday editing tasks.
Free stuff is one of the great benefits of the Internet – loads of great contributors willing to share their expertise and generosity with anyone who wants it. As a way of maximizing that generosity and getting you some great free stuff, here's a quick roundup of some of the best free elements for video editors and motion designers!
Light Leaks & Lens Flares
We've previously posted on Premiumbeat some excellent links to some great free light leaks from the likes of Creative Dojo and LightLeakLove. Well LightLeakLove are back at it this Christmas with a huge 25 video giveaway.  Each and every day on the run up to Christmas 2013 they will be giving away a free HD optically created light leak for you to use in your projects.
If you can't wait that long head over to Projector Films for 24 more free light leak and lens flares with Pro Res 1080p downloads for each file. What's handy about this site is that you can watch a sample of the clip before you download it. That, and these leaks are beautiful!
Idustrial Revolution also has a generous archive of free FCPX Effects including this Flare Lights Effect which adds a light streak effect to your footage right inside your FCPX timeline.
PremiumBeat has previously shared about the London based Luca Visual FX a number of times but if you've not already downloaded these two very useful lens flares that are compatible with FCP7, X, After Effects, Premiere, DaVinci Resolve and Avid Media Composer, then what are you waiting for!?
Video Editing Templates, Presets & Filters
Speaking of Idustrial Revolution they also have a bunch of free FCPX templates for common editorial graphics tasks like adding reflection to images and text, color split text transitions, and a very handy broadcast VT countdown clock. Download it for free here.
If you're looking for 2GB of free film grain – including 35mm Kodak Vision 3 5213 filmstock, film burns, aspect ratio templates and more, then Vision-Color, makers of the Osiris film emulation LUT pack, is the place for you. You will have to give a Facebook like for the 2GB download, but we think it's a small price to pay for useful video video LUTs.
Motion-master-templates.com is a super simple site with some nicely put together FCP7/X and Motion 4/5 animated templates. You can download the files and watch a tutorial for each one, so you're supported all the way. These are all created by motion graphics artist Deyson Ortiz.
You'd probably have to be living under a rock to have not see any of Alex Gollner's regular free FCPX plugins and effects, templates and transitions. Alex uploads a new free FCPX plugin most fridays and his archive site has over 60 free downloads. There are far too many to list here so just jump over and start rummaging for yourself.
Two excellent free filters that can save you a lot of time, if you're still cutting on FCP7, are Marcus Herrick's free Facelight and Vignette filters. Facelight will quickly add a pop of brightness to a subject's face whilst the vignette needs no explaining. The Facelight plugin does a decent job of acting like a lightning fast power window right from the FCP7 timeline.
In case you missed it we recently shared this excellent Anamorphic After Effects template from editor Vashi Nedomansky, which provides just the right amount of lens distortion and vignetting to mimic the look of anamorphic lenses. Another great post chock full of freebies is PremiumBeat blogger Clay Asbury's Free Color Grading Presets for Premiere Pro and After Effects
Other Free Tools For Video Editors
Ever had a producer or director call you up wanting to look at some MXF footage on their Mac computer without any editing software installed? If not, just wait…one day you will. When that day comes just point them to Hamburg Pro Media's free MXF4mac player, an amazingly capable little app MXF4mac player will let them simply drag and drop almost any MXF file and watch it full screen. Not only that but they can also:
"Control 8 tracks of audio, the framerate, Movie Time, Source Package Timecode, Frame Number and Data Rate. It supports, XDCAM HD, AVC-Intra, DNxHD, HDV,  Uncompressed SD/HD,Uncompressed Avid 10 bit, DVC-Pro HD, IMX-D10,DV, Meridien, Sony Proxy and more."
Another handy tool for editors comes from Creative Dojo, this time with a free download of some very useful After Effects Scripts that make common tasks like setting up or tidying up your project happen in a flash with a few clicks.
To also get a project folder structure set up in a jiffy Digital Rebellion has an excellent free tool called Post Haste, which PB previously blogged about here (plus a load of great insights from editors on how they go about structuring their project organization). Another very useful freebie from Digital Rebellion is the Compressor Repair tool which:
Is primarily aimed at problems involving clusters not appearing, submit buttons being greyed out and error messages saying the background process is not running. It can also fix certain issues where Compressor will not launch or launches without any windows.
Spherico has 22 free film tools that really are a technical treasure trove and it's a site that's worth remembering as, chances are, one of these free tools might just come in handy next time you're in a tight editing spot. In particular there are some great free FCPX metadata tools like this Keyword Extractor. There are also tools for copying cards, creating disk images and cleaning up Alexa XMLs when working with FCP7.
If you're in charge of keeping track of thousands of files then this great app called Fixity (currently windows only but Mac is 'coming soon') from Audio Video Preservation Solutions is probably what you need. Fixity scans your directories to create a manifest of all your files and then can re-scan them all at a later date and compare the two lists in case any of the files have been moved, deleted, corrupted or renamed. A very handy way to ensure the integrity of your data.
Another great free tool available from the AVP site is the BWF MetaEdit which allows you to "Import, edit, embed, and export specified metadata elements in WAVE audio files." If you're dealing with Broadcast Wave Files on a regular basis this free tool could be invaluable. Check out avpreserve.com for full details.
Jan E Schotsman's old-school looking website is a great place to pick up some very useful free tools for doing all kinds of things to video images like de-interlacing, cleaning up, converting from NTSC to PAL, adding a watermark to a folder of Quicktime or JPG files in one go and much more. All of Jan's hardwork is available for free, although if you find it valuable there is a donate button.
Got your own freebies to share? Let us know in the comments below!