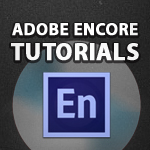 Creating a Web DVD with Premiere Pro & Encore
Set chapter markers in Premiere Pro and add searchable metadata for a web DVD.  Dynamic Link gives you the ability to make changes in Premiere Pro and have them ripple through to Encore.
Combining Encore with Premiere Pro via Dynamic Link gives you a powerful and easy post production workflow. The basic workflow for creating a web DVD: add searchable metadata to clips and create your sequence in Premiere Pro.  Then, send to Encore where we build a project that plays on a web page and is searchable.
Add Metadata in Premiere Pro
The first thing we'll need to do is add metadata in Premiere.  Select clips in the Project, right click and select "Analyze Content".
In the Analyze Content dialog check "Speech", select High Quality and click OK.  This will launch Adobe Media Encoder and the speech analysis will begin. Depending on the speaker and the quality of your footage you make get mixed results. In my example I selected the words it got wrong and corrected them.
Note: you can also attach a script from Adobe Story for better results.
Creating Chapter Markers in Premiere Pro
Chapter markers created in Premiere Pro will show up in Encore as chapter points.
Create chapter markers by clicking the "Set Encore Chapter Marker" icon. They will show up as Red markers in Premiere, while comment markers are green & web link markers are orange.
The quickest way and my preferred way to set an Encore Chapter Marker is to create a keyboard shortcut.  See our post on creating keyboard shortcuts in Premiere Pro for more info.
You can also change the type of marker by double clicking on the marker and selecting a different type under "Options".
You don't need to create a chapter marker at the beginning of your sequence, as Encore will do this automatically.  Also, the name you assign the marker in Premiere Pro will also show up in Encore (View>Show Chapter Names).
The advantage of creating chapter markers in Premiere Pro is they show up on the exact frame. If you create markers in Encore after the footage has been converted to MPEG-2, then the markers can be 15 (NTSC) to 12 frames (PAL) off because of the GOP structure of MPEG-2 files.  The Premiere Pro help has more details on MPEG-2/GOP.
Sending to Encore using Dynamic Link
With the sequence selected  in the Project, go to File > Adobe Dynamic Link > Send to Encore.
Encore launches, then name your Project and pick either DVD or Blu-Ray under Settings (you can change this later).
The Project then opens with a timeline of your Premiere Pro Sequence.
Now, when you go back to Premiere Pro (Command + Tab for Mac, Alt + Tab Windows) and make a change (like applying an effect) it updates in Encore.
If Premiere Pro is closed, Select the Premiere Pro sequence in the Project and Command/Control + E to "Edit Original" which opens Premiere Pro so you can make further changes.
Building A Web DVD (Flash)
In this example we'll do a simple auto play disk.  You can add menus and create more complex projects if needed.  Besides burning a standard DVD or Blu-ray DVD, Encore allows you to build a Flash DVD for a webpage that is searchable.
We need to set the Title Button "Action" & "End Action" for the Timeline.  Using "Check Project" will show us the connections we need to make.
In Encore, select the Build panel and click "Check Project":
Click "Start". This shows you any problems that need to be fixed. By clicking on an issue in the list, Encore will take you to the problem.
Click the pulldown for Title Button and select "Stop".  Then, click the pulldown for Timeline End Action and select "Stop".
Next, click "Start" to verify you have fixed any problems (they disappear if fixed).
Back in the Build panel, set Format to Flash, and change "Settings" to FLV.
Click  Build and the Flash file is created.
Double click on the index to launch your browser. Click the search icon (magnifying glass), and type a word you want to find. A list shows you where the word is used and you can then navigate to it.
(click for larger view)
Got tips for creating DVD projects in Encore?
Let us know your thoughts/experiences in the comments below.