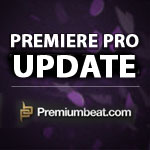 My 10 Favorite Features: Adobe Premiere Pro Next
Adobe has updated their popular professional video editing application, Premiere Pro. Here's the 10 new features we're most excited about!
Adobe is revealing the next version of Premiere Pro at NAB 2013. If you are attending NAB, be sure to check out Adobe at booth #SL3910. Adobe is currently offering a 40% NAB promo on the Creative Cloud. 
In this post, I a look at my 10 favorite features in Premiere Pro Next. A mix of small & big additions, there is something for everyone here (previous users, as well as FCP & Media Composer editors).

Move a clip up or down
Yes! Thank you Adobe. For ex Final Cut Pro editors, this feature will be very welcome. This is a huge time saver and my favorite new feature.
Adobe calls this new feature Nudge.  You can Nudge clips up, down, and left and right. By default Nudge Up & Down don't have shortcuts but you can add these.  You can also nudge in the Titler – very cool.
Insert as Nest or Individual Clips
Some new insert and overwrite features made it into the update.  The new feature appears as an icon in the top left of the Timeline (highlighted in Red in the screenshot below).
This feature determines the behavior when you edit a sequence into a sequence. I often prefer to edit a sequence into another sequence as clips, and this feature lets you do just that.
When it is toggled on, the sequence is added as a Nest. When it is toggled off, the sequence is added as individual clips. I loved this feature in FCP & Media Composer and it is a welcome addition to Premiere Pro.
Control Surface Support
Control surface support was previously in Audition CS6 and is a welcome addition to Premiere Pro.
Using a control surface is my preferred and a more tactile way to work with audio, be it a hardware or an iPad. This is particularly handy for audio keyframe automation.
Timeline Display Settings
Clicking the wrench icon in the Timeline brings up the Display Settings.
This feature makes it quick and easy to customize your display settings.
Quicker access to Track Options
Video and audio clips in the Timeline now display an FX icon.
Click on the FX to reveal fixed effect options for Video (Motion, Opacity, Time Remapping) & Audio (Volume, Channel Volume, Panner).  This allows quick changes to these parameters from the timeline – can end up being a big timesaver.
Link & Locate
Link & Locate offers Improved Media Management.  Right click on a offline clip and choose "Link Media".  This brings up the floating"Link Media" window.  
Check "Media Browser to Locate Files" which brings up the Media Browser, then click Locate to reconnect the media.
Paste Attributes
Paste Attributes in Premiere Pro is another feature that I will use constantly. Now when you Paste Attributes you can choose which video and audio effects to paste. In CS6 when you pasted effects it pasted all of them.
Audio Clip Mixer
In Premiere Pro CS6, the Audio Mixer worked with track audio. If you changed the volume with a track fader, you were changing the track volume, but you didn't see the change in the Timeline (as the default was clip audio.) Premiere Pro Next adds the Audio Clip Mixer that is now part of the default workspace. Switching to the Audio Workspace brings up both the audio clip and audio track mixer.
Lumetri Looks
Lumetri Looks adds handy presets for common looks like Bleach Bypass & Day for Night (great for adding a unique color grading style to your Premiere Pro project).
These looks were created with Speedgrade. You can open Speedgrade and modify the presets to create your own custom looks. These looks will be a timesaver for editors looking to quickly create stylized looks (Sixties) or fix common problems (Warm Overall).
Specify an AutoSave Location
Previously in Premiere Pro, an Autosave folder was created where your project was saved.
You can now specify a location for your Autosaves. This may seem like a small feature but this is definitely handy time saver.
Adobe Anywhere  (Bonus)
Prelude & Premiere Pro both offer integration with Adobe Anywhere.  Adobe Anywhere (separate purchase) lets editors in different locations collaborate.
This could be huge for freelancers and large companies alike.  Like many video editors I am looking forward to seeing this at NAB.  Check out Abobe's Reveal page to see details about all the new stuff!