Will Gear Companion Apps Change the Game for Lone Wolf Filmmakers?
Gear companion apps have come a long way, and they're only getting better. So can they stand in for crew when you're shooting solo?
If you were to scroll through the archives of my lone-wolf and no-budget filmmaking guides here on PremiumBeat, you would see a consistent theme: gear recommendations for the ultimate "shreditor." The gear needs to be compact, lightweight, and operable by one person. Despite all these recommendations, there's just always a moment when you could do with an extra pair of hands. Perhaps to pan the camera as you move through the frame (if self-presenting), or to change the gels of the Fresnel fixture. Well, gear companion apps are slowly becoming the extra pair of hands a solo filmmaker needs.
What are companion apps? They're smartphone or tablet applications that improve the accessibility of your equipment. I've previously covered Panasonic's Image App, which pairs with Panasonic's GH camera series. It's arguably one of the best companion apps I've used — from sourcing a live feed to refocusing and changing the aperture. For those who self-present, it's like having an assistant.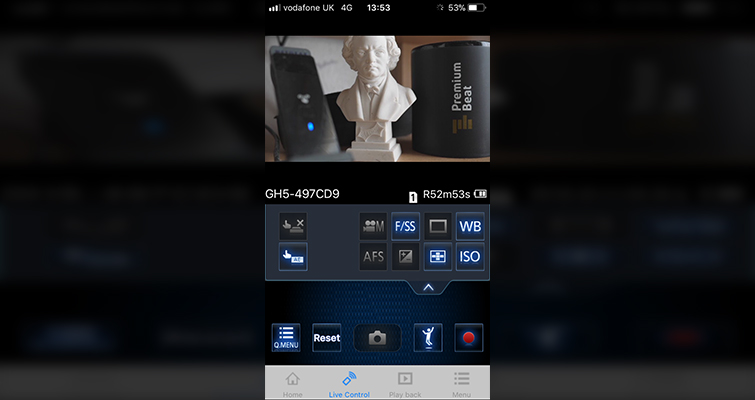 I should say that not every piece of equipment has accompanying apps, and not every app works quite as well as the Image App. In fact, in my initial write-up of Panasonic's image app, I prefaced my thoughts with Companion apps are often pointless additions to make it feel like you're getting more for your equipment-purchasing money. They rarely offer any new features, other than a visual representation of the user information, found inside the hardware. And this is still partly true.
Nonetheless, we're seeing an increase in gear shipping with compatible apps — as well as gear in development that will require a companion app to unlock all features.
So, will apps ever replace missing crew members?
---
What Do We Need from Sound Apps?
I have a Sound Devices MixPre-6 for recording audio. It's a $900, semi-professional, six-channel field mixer and recorder. It's a fantastic device that allows me to set up multiple microphones that I can monitor — and individually mix — while on location. It's perfect for when I want to head into the wilderness and capture the remote sounds of an isolated forest. (Try explaining that as a hobby.) However, when it comes to short films, passion projects, or just about anything that needs consistent monitoring, I have to sweet-talk my friend, who is a professional sound recordist, into operating my gear. If I'm in front of the camera, the person creating the sound effects, or just operating the camera in general, I'm going to be unable to mix the audio.
Thankfully, Sound Devices has an app called Wingman, available for iOS and Android devices. This app allows you to monitor the audio (in real time) with visual levels relating to your number of channels. You can edit the metadata of the file and send a report to an email address. And, most importantly, you can hit record and stop from the app itself. So what does this do for you?
Well, often, when self-presenting content online, you're more than likely going to be using a microphone fed into the camera. However, if you're recording sound on a separate device, you're going to have to hit record long before stepping into the frame. While not a world-ending prospect, it's going to eat up memory, and after each take, you need to move away from your position to end the take. Unless you're willing to sift through the hours of audio in one long file, these are all great elements in an app. However, we're missing a significant element — the ability to adjust the audio gain.
I believe the reason why this isn't included is that the MixPre-6 gain knobs have a limited range. You can't continuously rotate them. The knob starts at 7 o'clock and ends at 4 o'clock. As a result, if you were to adjust the gain levels on the app, the knob position on the MixPre-6 wouldn't correlate. While this is a downside to the Wingman App, Tascam's DR app does allow for gain changes, along with the other features included in Wingman.
We have an app that can edit metadata, start and stop recording, and (if you're using the Tascam app) even adjust the audio gain. All these factors allow a filmmaker to move away from the audio device and concentrate on something else.
---
What Do We Need for Camera Apps? 
The GH5 has a handy app that allows you to adjust all variables of the camera's settings. But, as I covered in the write-up, that app was primarily a photography app. Blackmagic, however, does have a designated app for their cameras that have integrated Bluetooth.
The app is aptly called Camera Control, and as you might have guessed, it controls the camera. You can adjust 99 percent of the recording properties from the app — from the aperture and frame rate to the white balance and ISO. The app even includes a metadata page where you can quickly add shot information (more easily than on the URSA Pro or BMPCC4K small LCD screen). I find myself using this app to quickly tag a good take.
As I said in the introduction, this app is essentially a glorified version of the camera's menu interface. It's useful when the menu is inaccessible due to the camera's position or setup, but it doesn't offer much for the solo filmmaker. This primarily goes for all apps that band with professional cinema cameras. Perhaps it's because the data information, and the technology to stream a live feed via Bluetooth (whether that includes low quality and dropped frame rates) just doesn't exist, at this point. When you do use remote live viewing, whether from Canon's app or Panasonic's, it's never truly live. There's always a slight delay.
---
Yes, There Are Even Apps for Sliders
We talk a lot about sliders around here — the best traveling sliders, motion controlled sliders, heavy duty sliders, and so on. But a new addition to the slider category are those sliders that you can operate via an app. I'm still using a slider that I acquired in 2010, and if you would have told me then that in just a decade, I would be able to control a slider from my phone, I would have laughed. But, it's 2019, and you can do precisely that with Edelkrone's App for the Slider Plus.
You can read about the slider here, but, when it comes to the app, it allows you to fully customize the slider's tracking movement — from distance to speed. And when you pair it with the Edelkrone HeadOne or HeadPlus, you can also control the tilt and pan movement. Not only does this enable low-budget filmmakers to create complicated VFX that require precise robotic camera movement, but it (very simply) allows one to self-present to a moving camera.
---
Are the gear companion apps on the market currently capable of solving all of a lone wolf filmmaker's needs? Somewhat. While the apps are smart and dependable, you need to use them in conjunction with the gear itself. You can use Blackmagic's Camera Control app to start recording, but you still need to watch the monitor. You can use Sound Device's Wingman to monitor the audio levels, but you still need to be near the MixPre-6 to adjust the gain. Gear apps have certainly been growing in popularity over the last few years, and I don't think it will be too long until you can control all aspects of a shoot — visual, sound, movement — from your iPad.
---
Cover image via Edelkrone
Looking for more on film and video production gear? Check out these articles.